Exhibition Archive
---
This section provides a list of the gallery's past exhibitions from 1966-2018.
Read more about the Mandeville Art Gallery's full history here.
FURTHER REFERENCE
For a chronological inventory of the Mandeville Art Gallery's exhibitions from 1966 - 2015, please consult the book Artistic Research: Visual Arts  , ed. Jordan Crandall (San Diego: UC San Diego Division of Arts & Humanties, 2015). Download below.
UC San Diego Library's Special Collections & Archives maintains the Mandeville Art Gallery's substantial records. The collection includes materials related to the administrative functions of the gallery, as well as records of exhibitions curated between 1966 and 2015.
2018
The Agency of Art
April 12 – May 17, 2018
Curated by Tatiana Sizonenko, Ph.D. '13
In the final exhibition, Visual Arts @ 50, our two-year long series marking the 50th Anniversary of the founding of the Visual Arts Department, turns its focus from the past to the future. The Agency of Art highlights the role of Visual Arts alumni from the past two decades who are shaping the way art engages with social practice, the environment, science and technology. British social anthropologist Alfred Gell held that "visual art objects are not a part of language … nor do they constitute an alternative language" and thus should not be treated simply as illustrations or visual texts. Instead he argued that they are tangible indices of social interactions that act as social agents. To conclude the Anniversary series of exhibitions, The Agency of Art spotlights how the Visual Arts Department is committed to using art to reshape the world in which we live.
---
Stories That We Tell: Art and Identity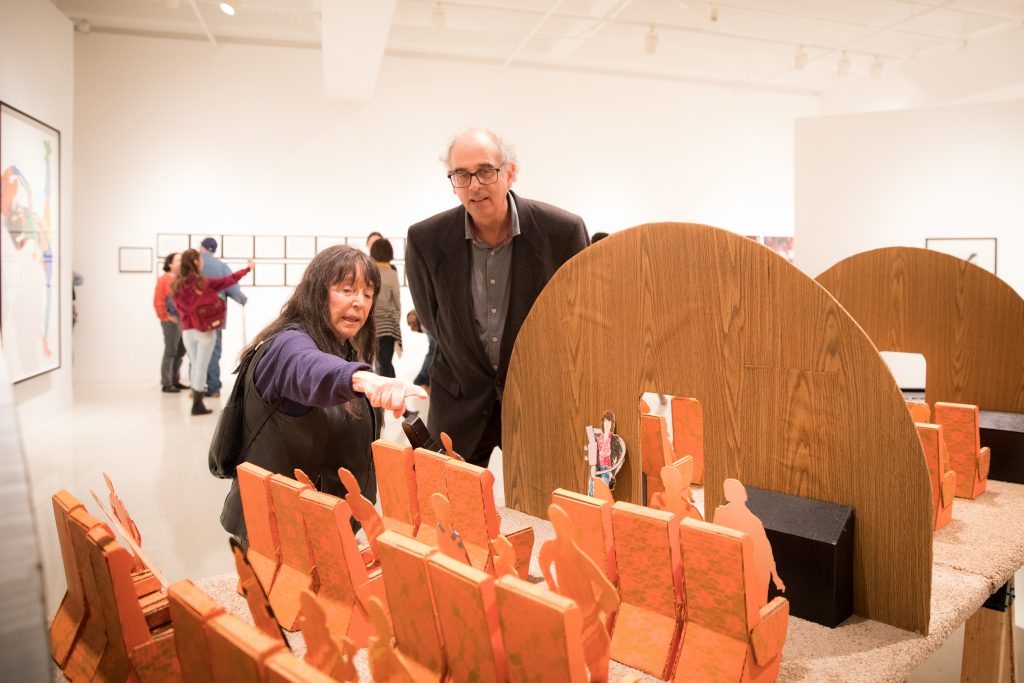 Jan. 18 – March 3, 2018
Curated by Tatiana Sizonenko, Ph.D. '13
Stories that We Tell: Art and Identity celebrates UC San Diego artists who paved the way for greater inclusion by inventing new means to address issues of race and gender. The seven internationally famous artists featured in the exhibition—Eleanor Antin, Barbara Kruger, Faith Ringgold, Martha Rosler, Miriam Schapiro, Lorna Simpson, and Carrie Mae Weems have been honored with major exhibitions at leading museums and recognized with prestigious awards. All were members of the Visual Arts Department, but this is the first time that they are exhibited on campus together.
---
2017
Provoking Change
Oct. 12 – Dec. 7, 2017
Curated by Tatiana Sizonenko, Ph.D. '13
Exploring a segment of the unique early history of the Visual Arts Department, Provoking Change celebrates an extraordinary roster of artists who came to study in San Diego in the early 1970s through the 1990s. Diverse in their approaches, these artists shared a desire to foster change by challenging the narrowly defined avant-garde canon as manifested in the formalism of the 1960s. In contrast to the influential American critic Clement Greenberg, who considered political art renegade and aesthetically inferior to the avant-garde, UC San Diego artists made art that introduced multi-cultural voices, pointed out women's underrepresentation in the arts, and revealed the pressing histories of immigration, class, and racism. By broadening art-making practices through daring experimentation and engagement with the highly-contested political and social subjects of the day, these artists helped transform and expand contemporary art.
---
Making Communities: Art and the Border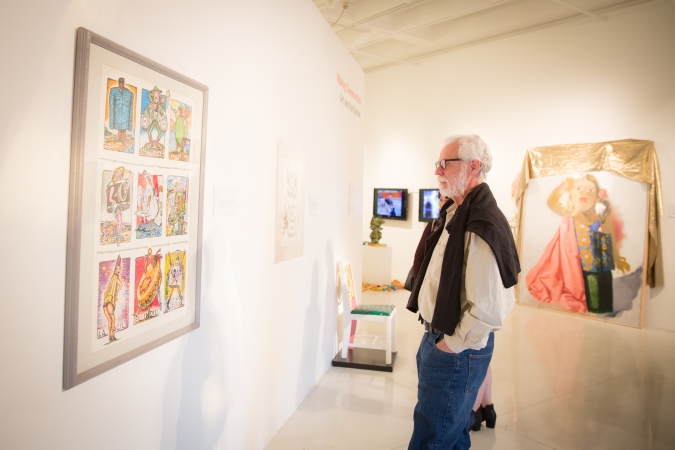 March 3 – April 13, 2017
Curated by Tatiana Sizonenko, Ph.D. '13
For the artists of Making Communities, the border is not just a as a physical reality imposed on the landscape by political forces and entities, but also a subject for the imagination and a site for social engagement and problem-solving. The multimedia exhibition in the University Art Gallery and SME Visual Arts Gallery features twenty artists whose work critiques and reassesses the border and imagines a more interconnected and just world. Contemporary Latino and Chicano art is also featured in a smaller, complementary exhibition in the Cross-Cultural Center galleries.
---
2016
Extensions of Photography
Oct. 7 – Dec. 9, 2016
Curated by Tatiana Sizonenko, Ph.D. '13
Extensions of Photography highlights artistic practices by former and current UC San Diego-affiliated artists and alumni who redefined the photographic medium and contributed significantly to the cultural life of San Diego and the United States. The exhibition spotlights how these artists have employed photography in complex and layered ways to introduce themes of everyday life and reveal the pressing histories of gender, class, racism, and political resistance, while also experimenting with the medium.
2015
8 // MFA Graduate Exhibition 2015
June 4 – July 3, 2015
Curated by Vanessa Bateman + Julia Fernandez + Sara Solaimani, PhD students in Art History, Theory & Criticism, UCSD Department of Visual Arts.
The University Art Gallery at the University of California, San Diego presents 8 // MFA Graduate Exhibition 2015. This exhibition features artwork by eight graduating students from the Visual Arts MFA program at UC San Diego.
Artists: Bill Basquin, Artemisa Clark, Heidi Kayser, Andreas Leonardsen, Dominic Miller, Joshua Jon Miller, Julian Rogers, and Angela Washko.
---
ROUND but SQUARE: Undergraduate Exhibition 2015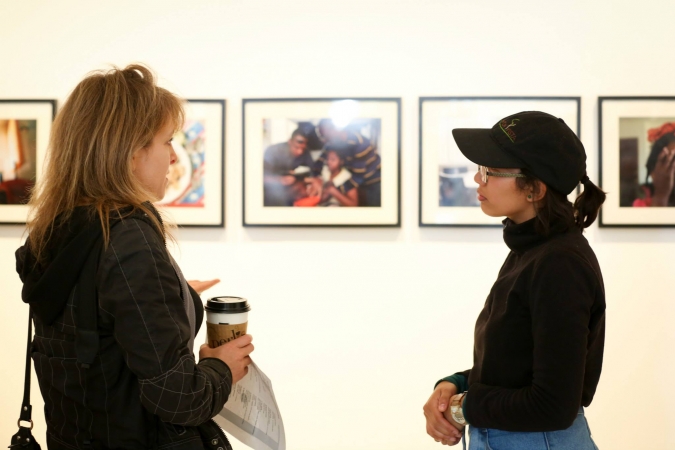 May 19 – 22, 2015
ROUND but SQUARE: Undergraduate Exhibition 2015 is hosted by the University Art Gallery from May 19–22, 2015. This exhibit serves to highlight the most ambitious works by emerging artists of UCSD's undergraduate community. Curated by a panel of undergraduate art historians, this exhibition brings together works from the many departments here at UCSD: ICAM (Interdisciplinary Computing and the Arts Major), Media, and Studio, onto one architectural plane to encourage a thought provoking and stimulating conversation between peers.
---
Artistic Research: Visual Arts Faculty Exhibition 2015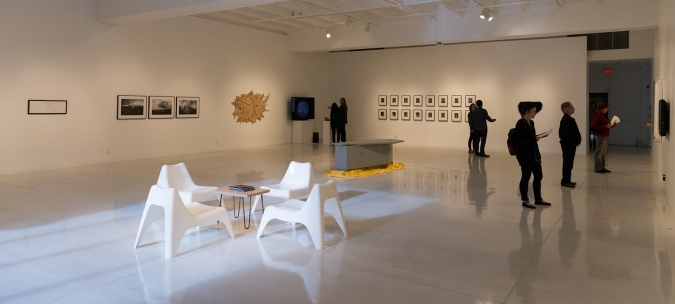 May 7 – 14, 2015
The University Art Gallery's approaching 50th Anniversary provides an opportune time to look back on the gallery's achievements. In many ways, a faculty exhibition provides the best framework through which to do so. The gallery's exhibitions and programs have always emerged from the research interests of faculty in the Visual Arts Department, in concert with the students with whom they work and teach, and exhibitions of this work provide important touchstones in the consideration of its history. The role of the Gallery has been to present this research-based artwork in the context of the broader interdisciplinary environment that informs it. The conversations these exhibitions have engaged about the nature of art practice in the research environment of UC San Diego have had important repercussions in the changing culture of the campus and region, as well as in the larger arenas of cultural practice in the world beyond.
---
State Park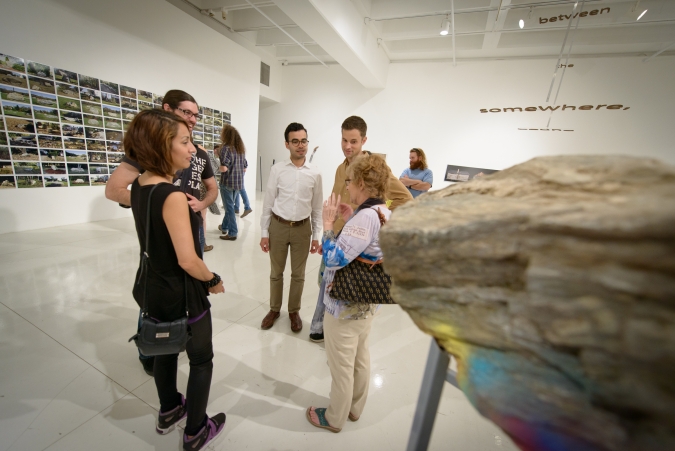 March 7 – May 1, 2015
A dynamic group of artists explore the concept of state parks as complex sites that exist, ostensibly, to preserve a location on account of its natural beauty, historic relevance, and recreational potential. State parks have also functioned as templates to examine how the U.S. thinks of, envisions, and exploits the outside. In many ways, state parks are neatly groomed physical manifestations of landscape paintings-rendered perfectly in greens and browns and providing an accessible, domesticated, and colonized wilderness. But, for many, they have unlocked a kind of egalitarian sublime and enabled understanding in the out-of-doors. This exhibition unpacks state parks as sites rich with conflict and complexities—where landscape, myth, identity, class, exclusivity, exploitation, wildness, tragedy, erasure, memory, leisure, spirit, holism, play, and adventure exert their individual and collective forces. The artists included in the exhibition turn over the show's namesake so that we might see what they've seen, done, and remember, or discover who has been excluded and what's been inadvertently missed.
---
 3015: Work in Progress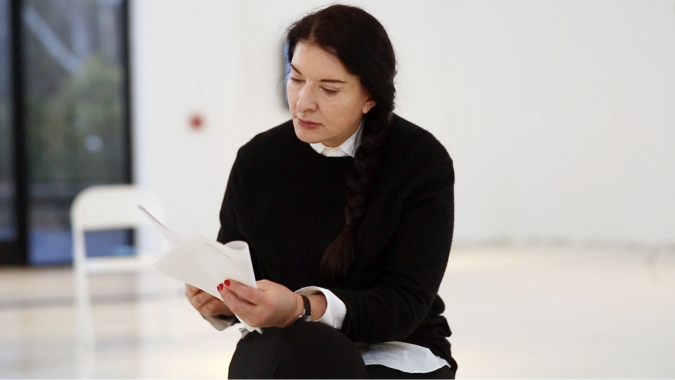 Jan. 15 – 30, 2015
Marina Abramović in collaboration with Kim Stanley Robinson
The installation previewed a new work for the upcoming Venice Biennale. Sound recordings captured during the Abramović Method Workshop were featured.
The installation and workshop are produced by the UC San Diego Arthur C. Clarke Center for Human Imagination: Sheldon Brown, Director; David Kirsh, Associate Director; Laura Martin, Program Manager. Video Production: Nathan Wade, Lyndsay Bloom, Lucas Coffin, Stefani Byrd. Sound Design: Adam Tinkle and Wes Hawkins. University Art Gallery: Merete Kjaer, Jordan Crandall, Adam Rule, Arturo Hernandez, David Shere. Special Thanks to Lucille and Ron Neeley, Sheena Ghanbari, and the participants of the workshop.
---
2014
Elective Affinities: MFA Graduate Exhibition 2014
May 29 – June 27, 2014
Curated by PhD students Paloma Checa-Gismo and Noni Brynjolson, the 2014 MFA exhibition proposed that while there are numerous practices among the group of graduating students, there are still lines of thematic affinities between the works that reveal a shared set of concerns and approaches to art making. The exhibition featured the work of the following graduating MFA students: Danny Cannizzaro, Kate Clark, Gary Garay, Emily Grenader, Aldo Guerra Cota, Aitor Lajarin, Amber Lundy, Elmire Mohebali, Tomas Moreno, J Noland, Ava Porter, Matthew Savitsky, Hermione Spriggs, Nichole Speciale, and Walter Sutin.
---
My Strangest Stranger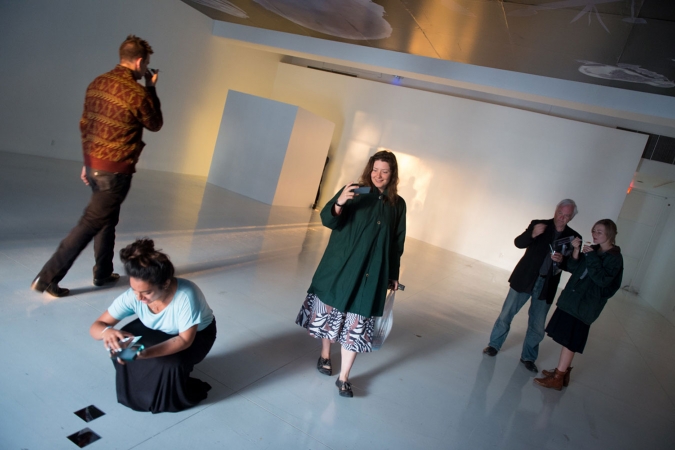 March 13 – May 9, 2014
Artist Mary Walling Blackburn was invited by the gallery to continue her research into extraterrestrial encounters, seeking narratives produced to understand how we position ourselves in relationship to the Other, the alien, the stranger, the unknown. With past research and collecting of narratives in Turkey and France, Blackburn conducted a month long residency in San Diego to collect extraterrestrial encounter stories along the U.S./Mexico border. Blackburn produced a video from this work that was shown as part of the exhibition, along with videos documenting her previous research on the topic. From the stories she collected locally, she selected one that was told by a Mexican illegal border crosser of his alien encounter and from this story created a large-scale mural for the gallery that contained the elements of his story. Additionally, a mirrored reversed mural was created on an abandoned stretch of road outside Jacumba in the approximate area where the encounter originally took place. The gallery installation contained a low rumble sound element, an altered seismographic sound recording obtained from Scripps Institute specifically for the project, underscoring the central element of the mysterious and unknown. A publication, titled The Extra Earth Analog, co-edited by the artist as an A-Z compendium of reflections on the extraterrestrial or the stranger accompanied the exhibition. Copies of the publication were available for free to visitors in the gallery in a separate reading area with additional source materials on various topics of the artist's research.
---
And how are we feeling today?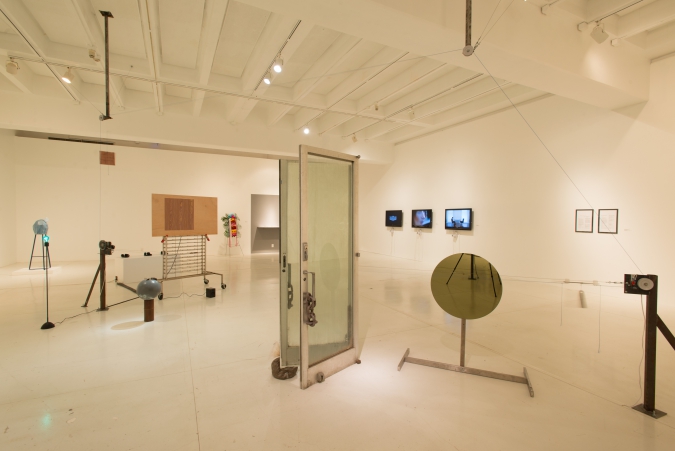 Jan. 9 – Feb. 14, 2014
With the aim of inquiring into the economies of affect, structures of feeling, emotions as commodities, and the politics of care, And how are we feeling today?, was a group exhibition that featured video, performance, installation, sculptural, and sound works by artists Nina Canell, the Feminist Economics Department (the FED), Melanie Gilligan, Vishal Jugdeo, Reena Katz, Mierle Laderman Ukeles, Anna Sew Hoy, and Wages for Facebook.
---
2013
Timing is Everything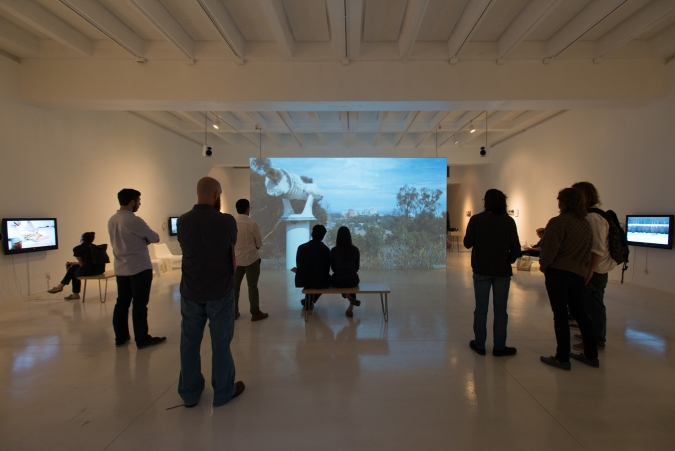 Oct. 3 – Dec. 6, 2013
Timing is Everything was an exhibition that explored how built space situates us in time, featuring nine video works by artist Joseph Redwood-Martinez that investigate the larger implications of postponed/incomplete construction projects witnessed in many countries around the globe. Four additional video works by artists Charles Miller, Hong-An Truong and Dwayne Dixon, Cauleen Smith, and Uriel Orlov, were each featured in two-week rotations in the gallery as large immersive projections. Each of these works dealt with various aspects of built space, their impact on humanity and the understanding of time and history these produce.
---
MFA 2013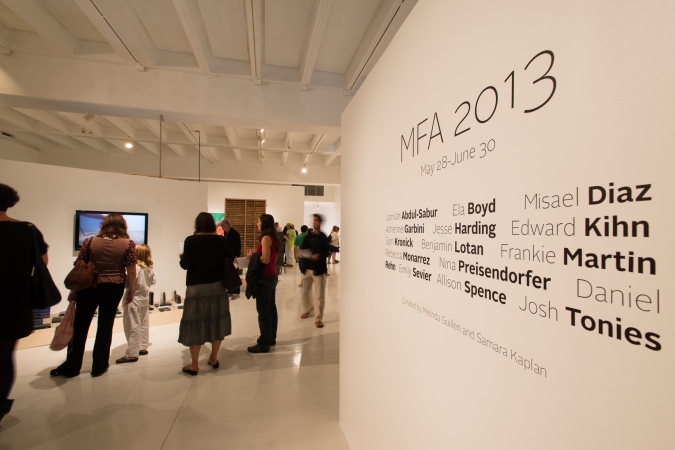 May 28 – June 30, 2013
Curated by PhD students Melinda Guillen and Samara Kaplan, the 2013 MFA exhibition featured the work of fifteen graduating students: Jamilah Abdul-Sabur, Ela Boyd, Misael Diaz, Adrienne Garbini, Jesse Harding, Edward Kihn, Sam Kronick, Benjamin Lotan, Frankie Martin, Rebecca Monarrez, Nina Preisendorfer, Daniel Rehn, Emily Sevier, Allison Spence, and Josh Tonies.
---
We'd love your company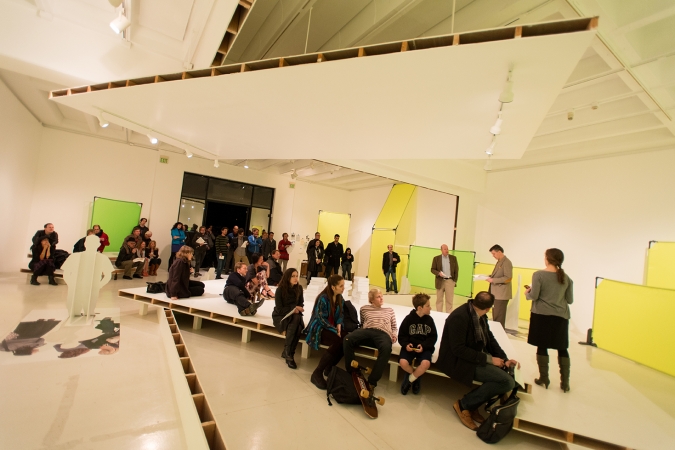 Feb. 21 – May 10, 2013
The first exhibition curated by UAG fellow, Michelle Hyun, in collaboration with New York artist Ethan Breckenridge, We'd love your company aimed to repurpose the gallery through an open programming invitation to the general public. Functioning as an essentially blank slate, the gallery was outfitted with basic architectural elements such as two raised platforms and movable scrims that visitors were invited to manipulate to reconfigure the environment. In addition, the public was invited to propose programmatic elements for presentation within the space during the run of the exhibition. In this way the exhibition sought to understand who the gallery's publics are, while also investigating the concepts of hospitality and participation in light of an art gallery setting.
---
2012
Living as Form (The Nomadic Version)
Oct. 4 – Dec. 14, 2012
A traveling exhibition curated by Nato Thompson of Creative Time for Independent Curators International, consisting of a selection of socially engaged projects produced around the world in the past 20 years, 22 of which were shown at the UAG. In addition to the existing traveling projects, the UAG as a venue was asked to commission four new socially engaged projects to add to the exhibition and the archive for Living as Form as the exhibition continues to travel to other venues around the world. The four local community projects realized for the show were by Agitprop, Cog*nate Collective, The Periscope Project, and Torolab.
---
Heterotopia: UCSD MFA Thesis 2012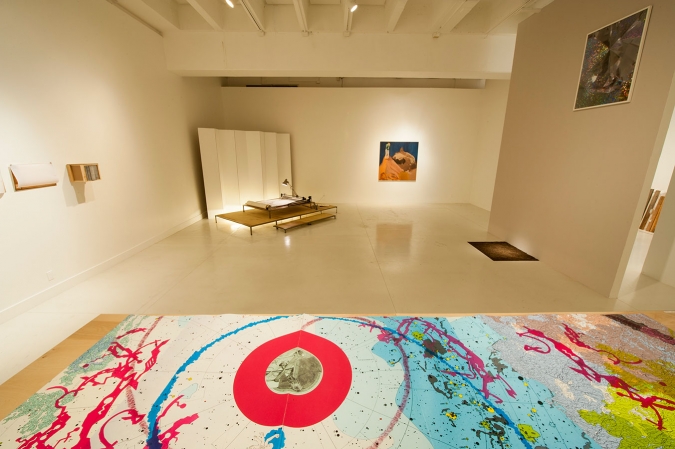 May 31 – June 29, 2012
Curated by Ph.D. students Sascha Crasnow, Emily Elizabeth Goodman, and Elizabeth Miller, this year's MFA exhibition picked up on the notion of a distinct heterotopic quality that describes the UCSD MFA program. Working in various artistic disciplines, mediums, and investigative practices the show featured work by the 2012 graduating MFA class: Joshua Aaron, Sadie Barnette, Mike Calway-Fagen, Alida Cervantes, Elizabeth Chaney, Christopher Kardambikis, Hyeyeon Kim, Stephanie Lie, Scott Lyne, Vanessa Roveto, Vabianna Santos, Jessica Sledge, Ash Eliza Smith, Xiao Ya, Joe Yorty, and Brian Zimmerman.
---
ANOMALIA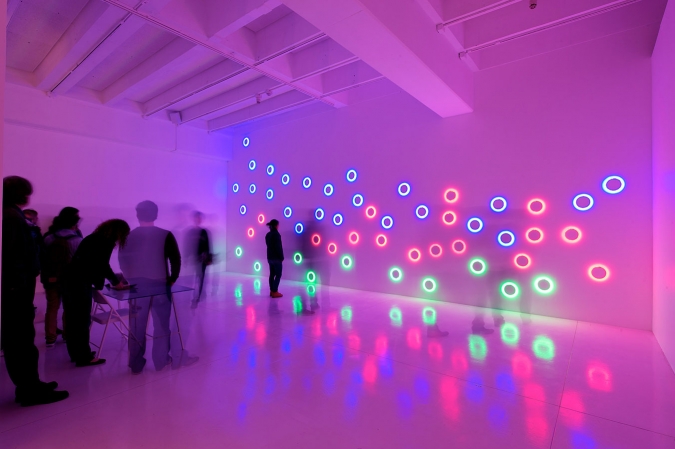 Feb. 16 – May 18, 2012
Curated by Lucía Sanromán, ANOMALIA explored contemporary art practices that use systems of visualization and quantification derived from the sciences, borrowing from its positivist methods of empirical analysis and date representation. Juxtaposing the clinical objectivity driven fields of science with the subjectivity of aesthetics and the speculative aspects of creation, the exhibition sought to uncover the disruption taking place in the seepage occurring between oppositional systems of knowledge.
2011
Arrhythmias of Counter-Production: Engaged Art in Argentina, 1995-2011
Oct. 6, 2011 – Jan. 20, 2012
Curated by Jennifer Flores Sternad, a leading scholar of political art in the Americas, the exhibition brought together art practices developed in Argentina dealing with social and political struggles. Often working as grass-roots artists collectives, the work presented in the exhibition evolved directly out of the political tensions that accompanied the Argentine economic crisis around 2001/2002. Springing from this place of authentic social and political motivation, the works in the exhibition directly interrogate the official state-generated representations of stability and progress.
---
Disperse: MFA Exhibition 2011
June 2 – July 1, 2011
Announcing the 2011 MFA exhibition featuring thirteen graduating candidates of UC San Diego's acclaimed Masters of Fine Arts program in the Visual Arts.
The exhibition, organized by the University Art Gallery and co-curated by Lara Bullock, Rujeko Hockley, and Drew Snyder, showcases an extraordinary group of artists and peers who have worked in close proximity to one another over the last three years. The work on display shows the diversity of practice in the UCSD Visual Arts department, ranging in medium from sculpture and installation, to photography, drawing and painting, video, and performance.
The artists are: Micki Davis, Noah Doely, Rob Duarte, Anna Chiaretta Lavatelli, Ross Karre, Sheryl Oring, Brianna Rigg, Lesha Maria Rodriguez, Mike Toillion, Elle Mehrmand, Jerry Truong, David White, Suzanne Wright
---
Silent Witness: Recent work by Ken Gonzales-Day
March 31 – May 20, 2011
From the Press Release: LA JOLLA, CA–The UCSD University Art Gallery is pleased to announce the opening of a new exhibition by the internationally recognized photographer and installation artist Ken Gonzales-Day, running from April 1 – May 20, with an opening reception with the artist on March 31 from 5:30pm- 8:30pm. The show, Silent Witness: Recent Work by Ken Gonzales-Day, has been curated by Grant Kester, Elize Mazadiego and Jenn Moreno specifically for the University Art Gallery. It will feature selections from two recent projects by Gonzales-Day: California Hang Trees and Erased Lynchings. In the Erased Lynching series Gonzales-Day uses enlargements of postcards and photographs created to commemorate and publicize lynchings (these images became so pervasive that the U.S. Postal Service had to ban their circulation in 1908). Lynchings were often seen as festive occasions and a form of entertainment, especially in smaller rural communities, so these images frequently included enthusiastic crowds of on-lookers.
Gonzales-Day began working with this material following the controversy that surrounded the Without Sanctuary exhibition at the New York Historical Society in 2000, which featured a series of over two hundred lynching photographs and postcards. The re-presentation of this material raised a number of compelling questions for Gonzales-Day. How do you overcome historical amnesia surrounding America's racist and violent past, without at the same time reigniting the voyeuristic fascination that accompanied the original circulation of these images? What is the pedagogy of suffering, and what lessons do these images carry with them today? Gonzales-Day approached these questions through a process of reversal in the Erased Lynching series, maintaining the surrounding scenes of leering, indifferent, or amused, crowds but subtracting the victim's body. This spatial displacement was then carried forward through a process of temporal displacement in the California Hang Trees series. Here Gonzales-Day located a series of surviving lynch trees in the California countryside (or tress in close proximity to confirmed lynching sites) and produced large-format color landscape photographs of them. They are portraits, in a manner of speaking, that suggest the very real, physical, traces of California's repressed past. Their location, from rural back-country to suburban office parks, can produce a jarring recognition of the violent history that lies just beneath the surface of an alternately banal or bucolic present.
We have had our own moments of jarring recognition here at UCSD in the past year, as students have happened upon Klan hoods and nooses in the Geisel Library, and the stairwell near the University Art Gallery. These incidents raise significant questions about the relationship between action and symbolic speech that have only become more pertinent with the passage of time. The noose, like the burning cross, is a promise, an incitement, and a reminder of both a deplorable past and the possibility of violence yet to come. Gonzales-Day reminds us that the act of witnessing is never innocent.
Gonzales-Day's work has been featured in solo and group exhibitions at venues including the Palais de Tokyo in Paris, the Generali Foundation in Vienna, the Los Angeles County Museum of Art, El Museo del Barrio in New York City, and the Tamayo Art Center in Mexico City, among many others. Gonzales-Day has also conducted original research on the history of lynching in America. His groundbreaking book Lynching in the West: 1850-1935 (Duke University Press, 2006), has done much to complicate our historical understanding of lynching, exposing it's widespread use as a form of domestic terrorism well beyond the southeastern United States (there were 354 recorded lynchings in California alone between 1850 and 1935), along with the high proportion of Latino lynching victims in the western U.S.
---
Archive Fever: A three part performance series
Jan. 21 – March 18, 2011
From the Press Release: The University Art Gallery began its exploration into the various world of performance art with the influence of Gallery Director, David Antin. From the ornate Fluxus/Big Book exhibition in 1969 to A Decade of Women's Performance Art in 1982, Antin created a space for artists of the new genre to pave a path of creativity, body exploration, and artistic politics. Performance is an act of embodied transmission, a gesture that disappears from memory and persists in memory, a vital event and a resonant non-event, the in-between knowledge of "twice-behaved behavior".
It is the core syndrome of the 21st century that cannot stop performing- the complexity of its etymological root parfournir, "to furnish forth", "to complete", or "carry out thoroughly" are now caught up with the post-contemporary signals of the all too artificial, with incomplete immaterialities or overly framed affective relationalities. Each of these echoes are at play in the diverse archive and repertoire of a performance art site, the University Art Gallery.
Archive Fever will encompass three arenas of the genre: poetry, performance, and dance. Through each section, Archive Fever calls upon contemporary artists within the Visual Arts Department, Dance and Theatre Department, and the local San Diego/Tijuana circuit to capture these moments of important University Art Gallery history with their own unique interpretation and trajectory. As an archived exhibition is presented, a response will be given by the working artist with an attribution of their current work taking the form of a performance, reading, or dance piece.
Similar concerns and expanded notions by these artists will become part of a larger investigation into the history of performance at the University Art Gallery. This multi-disciplinary event is curated by Ricardo Dominguez of the Visual Arts Department, Yolande Snaith of the Theatre & Dance Department, and Jennifer Moreno of the UAG and Visual Arts Department at the University of California San Diego.
---
2010
Deep Water Horizon
Oct. 1 – Nov. 27, 2010
From the Press Release: The UC San Diego University Art Gallery will host Deep Water Horizon, Hans Weigand's second solo exhibition in the U.S. after his acclaimed debut at the Portland Landmark, Gallery. Deep Water Horizon is inspired by the fictitious and dystopian landscape of the California Coastline, on which the artist projects all sorts of ambivalent fall-out from the last 30 years of popular culture. Weigand will present eight large-scale multilayered canvases in an octagonal shape.
This fractured panoramic seascape is held together by a continuous, distant horizon, which is also a kind of dividing line between what's on top of this huge wave and what has long been submerged. In this sense, Deep Water Horizon is not only in dialogue with the recent offshore catastrophe but also hints at the archival burden confronted in the age of digital mass memory.
Having worked with large-scale multimedia collages for the last two decades, Weigand has adopted a 3-step process for the production of his canvases. The backdrop of each panel on display is provided by painting, mostly abstract images of nocturnal and daytime "atmospheres" characterized by different light parameters. Printed on these backdrops are large, computer-generated montages of photographic elements, primarily of seascapes shot at various locations in California and Hawaii.
Another layer of these collage works engages with bizarre architectural and environmental details found in Las Vegas or in the hinterlands of U.S. vernacular culture. Above this tidal wave of trashy and flashy imagery, the lonely figure of the surfer, in large part modeled on the Comics character of the Silver Surfer, is enthroned in perfect isolation as if he or she were the last one standing amidst the catastrophic debris of a contemporary media storm. The third, and final, layer consists of another surface of hand-painted accentuations that act as smears across the hygienic aesthetics of digital production.
The exhibit also features two supplementary components to the fundamental eight panels presented in Deep Water Horizon. The first is a sequence of simple images that incorporates partly legible words that are set back-to-back with the canvases and positioned to welcome the viewers. Finally, there is an accompanying series of straightforward photographs, selected views of Americana that Weigand has collected in the course of his frequent visits to the U.S. over the past decade. Serious and profoundly humorous at the same time, this piecemeal accumulation of a panoramic counter-spectacle takes on the notion of a "deep water horizon"-embedded somewhere in the depths of our personal archives.
On October 3 and 4 Hans Weigand will screen his film COTTON 2001/2010 in Los Angeles and La Jolla. Juli Carson will follow the screenings with a discussion about Weigand's work. October 3, 7:00pm: Mandrake, Los Angeles; October 4, 6pm: UC San Diego Visual Arts Facility Performing Space, La Jolla.
---
MFA 2010
June 4 – July 2, 2010
Shane Anderson, Rich Bott, Crystal Z. Campbell, Lili Chin, Ted Chung,
Leigh Cole, Monica Duncan, Chris Head, Glenna Jennings, Merve Kayan, Vincent Manganello, Dolissa Medina, Charles G. Miller, Jesse Mockrin, Zac Monday, Louis Schmidt, Tim Schwartz, Rachel Thompson, Claire Zitzow
The Department of Visual Arts at the University of California, San Diego announces its 2010 graduate MFA exhibition featuring work by nineteen graduating artists. The work on display is a culmination of a rigorous three-year studio practice and ranges from performance art and installation to painting, photography and sculpture.
Interested in how land is viewed and utilized, Shane Anderson allows the viewer to shape the landscape with his portable one-person camera obscura. Rich Bott combines personal messages typed on vintage telegrams with large prints of generic scenes of suburban life – on which he draws with charcoal – that are humorous critiques of middle class consumerism. Crystal Z. Campbell's installation is part of a series of works that investigate the ambiguity of ritual and uses fantasy to rupture the space between a celebration and an act of violence.
Working with a professional dancer, Lili Chin's video piece explores the framed psychological space of the subject through movement, lights and music. Ted Chung's site-specific cardboard tables respond to the work of his fellow graduates and play with notions of portraiture, color, time and space. Wanting to create work conceptualized entirely in fantasy, Leigh Cole reproduces a Michelangelo's David using marshmallows and plays on our sense of reverence and commerce.
Monica Duncan's video is derived from her experiences in Community Emergency Response Team training where she became interested in the parallels between training and rehearsal, improvisation within a limited duration, maneuvering through complexities of scale and makeshift rescue objects. Chris Head's work, heavily involved in established and emerging technology, focuses on the intersection of software design, games, and art practice. Glenna Jennings' work relates directly and tangentially to cheerleaders, guns, bearded men, working class spas, the subtle intricacies of identity and the shifting definitions of Space and Place.
Filmed in a small Turkish coastal town on the Aegean Sea, Merve Kayan's film aims to document the season in which life takes a break from the rest of the year and transforms itself into something different, in some other place, yet remaining intact with its own set of rituals. Vincent Manganello's colorful large format paintings pull from sources such as fashion, decorative arts and design to create seductive images that are both unstable and overwhelming. Dolissa Medina combines found footage to create a film/"docu-legend" about the life and death of the Tejano music singer Selena Quintanilla and her impact on the music industry for future Latino singers. Charles Miller operates as an artist/researcher leveraging aesthetic practice as a means for evaluating, measuring, and critiquing the illogical operations within our lived urban historiography.
Jesse Mockrin paints figures floating in space against a photographic backdrop folding references to French Neoclassical paintings with contemporary kitch. Combining crocheted masks and hands with drawings of royal subjects, Zac Monday's installation builds on his interest in exploring rituals and the forced interactions that challenge our comfort level and expose our emotional sensibilities. Louis Schmidt's drawings are part of an ongoing critique of personal and societal unhappiness.
Based on the music archived on his ipod, Tim Schwartz's created a card catalog file that lists all 7,390 songs from most recent onwards. Rachel Thompson's feature-length film essay follows a quixotic search for the material traces of Java's colonial, mystical, and paleontological past; A journey that shuttles between Amsterdam, London, Jakarta, and the District of Columbia.
Based on the 2009 Angeles National Forest fire, Claire Zitzow combines backlight photos of the burned mountainside with a 16mm film documenting the burning of paper she made from charged yucca fiber and ash to the nature of irreparable changes in our environment and our perceptions of those changes.
---
Transurbaniac: Art emotions and some city trances
April 9 – May 15, 2010
Eduardo Abaroa, Georgina Bringas, Abraham Cruzvillegas, José Dávila, Roberto de la Torre, Pedro Friedeberg, Rubén Gutiérrez, Jerónimo Hagerman, Enrique Jezik, Gabriel Kuri, Gonzalo Lebrija, Ilán Lieberman, Enrique Metinides, David Miranda, Antonio O'Connell, Edgar Orlaineta, Ricardo Rendón, Jorge Reyes, Tercerunquinto, Pablo Vargas Lugo
Things are not static. As we know from research in quantum physics, the closest landscape is a non-stop experience surrounded by contradictory aspects of surrounding objects that can be treacherous and out of control. Emerging from this awareness is the next exhibition at the University Art Gallery entitled Transurbaniac.
The exhibition, curated by Guillermo Santamarina, Chief Curator at the Museum of Contemporary Art  (MuAC) at the National Autonomous University of Mexico brings together a number of important works from the museum's permanent collection along with additional work selected by the UCSD University Art Gallery with the intention of linking the concerns of artists working in Mexico and the United States around issues of urban space and the university campus.
By using multi-dimensional approach, the exhibition recognizes the long tradition of Mexican creativity that is in the same critical discourse as surrealist artists. From pulling transgression notes into urban commodities or supporting questions about mental stability to materializing legitimate fear in based on historical and urban dysfunctions Transurbaniac aims to create a incontrovertible melodrama set in middle-class scenarios of the 21st century. From the large site specific installation of José Dávila to David Miranda's flyer titled Legal Trades, the exhibition takes as its focus the specific circumstances of contemporary art in Mexico and raises questions that are relevant for artists working in urban contexts everywhere today.
The Museo Universitario Arte Contemporáneo (Contemporary Art University Museum) is the largest public institution in Mexico to accommodate a collection of national and international contemporary art. Aiming to promote learning and esthetic enjoyment, its contents, architecture and interpretation tools offer the public the possibility of creating their own personal tour: college students, art experts, children, young adults and visitors in general, each build and enjoy their visit as a unique experience. Located in the Cultural Center of the National Autonomous University of Mexico (UNAM), the MuAC is the first museum fully created, in its architecture, management, museology, and interpretation, for contemporary art.
---
M(other)land: works by lauren woods
Feb. 4 – March 20, 2010
Over the last few years Bay Area video artist lauren woods has consistently returned to the subject of Africa, creating numerous pieces that vividly document her cultural investigations. This still growing body of work, entitled The AFRICA Archives, includes videos, still photographs and mixed-media works. M(other)land, on view at the University Art Gallery, UCSD, offers a glimpse into The AFRICA Archives and provides a space for viewers to sift through their own projections about a continent still primarily glimpsed through the veil of social crisis, Hollywood movies and television news.
This exhibition, curated by Los Angeles-based independent curator Lisa Henry for the University Art Gallery, marks the first time works from The AFRICA Archives have been shown together. The show focuses on the artist's long held interest in American perspectives on Africa as they relate to identity and cultural power. woods' project is open ended, grand in scale and often humorous as she re-edits popular films, music videos and her own footage creating a suite of works about the conundrum of Africa as the assumed homeland for generations of Americans who have never and will never travel there.
Four major works from The AFRICA Archives will be on view at the University Art Gallery. These arresting video installations integrate woods' own original video work with 20th century popular film, re-edited and re-mixed according to her own journey of inquiry. In …all over… (After the Crucifixion (After P. Pfeiffer (After F. Bacon))), the artist probes the intersection of contemporary African identity and American rap by employing Ludacris' 2005 video "Pimping all of the World" (purported to be the first mainstream American Hip Hop video to be shot in Africa), creating a dizzying hybrid of cultural signifiers in the gallery. In the five monitor video installation A Portrait of the African Shore, as well as in Inkblot Projective Test #1 (Darkest Africa 1936/2006) and i dream of Africa… woods questions both the stereotypes and idealized projections of the African landscape, its people and their culture.
For woods, "Africa is at once a question, a collection of political difficulties, a set of cinematic conventions and a site for the projection of racial and cultural identities by the West." woods' goal is not to create a definitive statement. As she says "I do not plan on answering any of these questions… or resolving my feelings about my perpetual journey in understanding the relationship between diasporic descendants of Africans and this place called the "motherland" but I have to acknowledge that this whole mania is more complex than it appears." These works both reflect and question the quintessentially American impulse to draw on fiction and myth to make sense of individual identity in a fragmented world.
lauren woods is a conceptual artist based in the Bay Area. She received her MFA from the San Francisco Art Institute in 2006. Her video work has been widely exhibited throughout the U.S. Her multidisciplinary approach often combines video, sound, installation and photography to examine popular culture, race and socio-politics. Currently woods is a Tribeca Film Institute Media Arts Fellow and is in residence at CentralTrak: The University of Texas-Dallas Artist Residency.
Her video work has been widely exhibited throughout the U.S., including the traveling exhibition Posing Beauty, curated by Deborah Willis, as well as Letters from the Left Coast…, Studio Museum in Harlem, NYC (2009) Cinema Remixed and Reloaded: Black Women Artists and the Moving Image Since 1970 at The Contemporary Arts Museum-Houston, Houston, TX (2008), The California Biennial, Orange County Museum of Art, CA (2008), Ethno-fictives, Swarm Gallery, Oakland, CA (2006).
Lisa Henry is an independent curator based in Los Angeles. She curated Americans and Off The Grid: Photographs by Keliy Anderson Staley at the California Museum of Photography as well as Connections (2009) at Jenkins Johnson Gallery, New York, and the traveling exhibition Young Americans: Photographs by Sheila Pree Bright. Past exhibitions include The Grapes of Wrath: Horace Bristol's California Photographs, J. Paul Getty Museum and I'm Thinking of a Place at the Hammer Museum, Los Angeles. She has contributed essays to various exhibition catalogs and is a columnist for the online photography sites of En Foco and Dodge & Burn.
---
2009
Off The Beaten Path: Violence, Women and Art
Oct. 23 – Dec. 12, 2009
Amnesty International, Laylah Ali, Maimuna Feroze-Nana, Mona Hatoum, Icelandic Love Corporation, Yoko Inoue, International Rescue Committee, Jung JungYeob, Amal Kenawy, Lisa Bjørne Linnert, Hung Liu, Gabriela Morawetz, Miri Nishri, Yoko Ono, Cecilia Paredes, Susan Plum, Cima Rahmankhah, Joyce J. Scott, Jaune Quick-to-See Smith, Masami Teroka, Hank Willis Thomas
For the new exhibition season the University Art Gallery, UC San Diego presents an international exhibition entitled Off The Beaten Path: Violence, Women and Art. The exhibition brings together artists from around the world to explore the global ramifications of gender-based violence. The exhibition, curated by Randy Jayne Rosenberg executive director of Art Works For Change, features twenty-one artists from nineteen countries. "Throughout the world, women and girls are victims of countless and senseless acts of violence. The range of gender-based violence is devastating, occurring, quite literally, from womb to tomb," explains Randy Jayne Rosenberg. "The stories that underlie these artworks return us imaginatively to the event of violation and allow it to affect us." Premised on the visionary potential in art, the exhibition avoids tabloid and sensational imagery. The invited artists were asked, "To help us create new representations through their artworks and, in doing so, help us feel and understand the essence of the problem of violence against women," says Rosenberg.
The exhibition hopes to help create a new conversation on this important topic. The exhibition explores multiple aspects of violence against women and girls organized within several thematic categories: Violence and the Individual; Violence and the Family; Violence and the Community; Violence and Culture; Violence and Politics. The organizers hope the audience leaves the exhibition with a better understanding of the roots of abuse, a feeling of empathy, and an awareness of choice in their actions and beliefs. These problems, though widespread, are often invisible, says Rosenberg. "When we encounter violence against women, we often overlook the facts and experience a sort of blindness. We choose not to see the devastation of domestic violence, calling it 'a family affair'. Honor-killings of women in faraway regions of the world become nothing more than a 'cultural difference'. We find it hard to believe that sex trafficking and exploitation occur in our cities, close to home. The rape and torture of women during armed conflict is the inevitable 'messiness of war'. As such, the political and systemic sources of violence are often underestimated or overlooked."
The University Art Gallery is partnering with 5 Women Who Care, Amnesty International, Casa Cornelia Law Center, Center for Community Solutions San Diego, Coalition to Abolish Slavery and Trafficking, End Violence Against Women International, License to Freedom, Survivors of Torture, The Voices and Faces Project, United 4 Iran and Women's Resource Center as well as departments and programs on campus in order to create an extensive calendar of programming. Please check the Talks and Events section of the website for upcoming events.
---
MFA 2009
May 29 – June 28, 2009
Robert Becraft, Susannah Bielak, Micha Cárdenas, Matthew Coors, James Enos, Kael Greco, Nico Herbst, Esteban Martinez, Gretchen Mercedes, Clare Parry, Omar Pimienta, Yvonne Venegas, Julia Westerbeke
The University Art Gallery is delighted to present its annual exhibition of work by the completing class 2009-2010 of Masters of Visual Arts students, from the Department of Visual Arts, at the University of California, San Diego. The exhibition of these thirteen emerging artists reflects the culmination of their time spent at UCSD and ranges from painting and sculpture to video, photography and installation.
Robert Becraft assembles films from distressed images and footage of made objects and tableaux that look back to a time of stylized experimentation. Susannah Bielak's fascination with earthquakes and their effects are represented through text, documentation, staged simulations and carving images into domestic tabletops traversing the territory between human and geographic disaster. Micha Cárdenas' recent 365 hour performance "Becoming Dragon" immersed her in the online 3D environment of Second Life through which she explored issues of transgender and identity. Matthew Coors' composite photographs focus on elements of disquiet in our urban environment. Combining wildlife with architecture his images tap into our fears of the unknown.
James Enos maps and animates the confluence of landscapes in sculptural and pictorial form. His three dimensional collages intertwine a range of different architectural forms with modes of transportation, tracts of greenery and the products of an industrialized society. Kael Greco celebrates the video gaming experience with colorful explosive videos that collapses the experience of a multitude of play scenarios into a single screen. Nico Herbst multi-screen video installations mix together created incidences and casual footage to create a space for sensual surrender. Esteban Martinez's fake cactus and ice cream cart proposes an alternative form of watching to the sanctioned U.S. surveillance of the San Diego/Tijuana border. Gretchen Mercedes video diptych unites contemporary footage of a helicopter approaching a boat out at sea and found Super 8 footage of an unknown island, thus allowing two different periods to come together.
Clare Parry paints onto the surface of found wallpapers, proposing them as carrier of memory, a screen for reflection and site for the investigation of the possibilities of painting. Omar Pimienta fuses together American and Mexican culture in films and sculptural form that both speaks to its origins while proposing the possibility of something new that exists between the imagination and the image.
Yvonne Venegas' latest photographic series focuses on a powerful Tijuana family and the world they have created. Their framing speaks of the tenuousness of her relationship to them as well as her ability to move within and negotiate that space.
Julia Westerbeke's twisting organic shapes that make up her creeping and sprawling installations are created through the manipulation of decidedly inorganic materials. Graphically present in black and white they propose a new form and order of beauty.
---
Mark Dean Veca: Paintings, Wall Drawings and Collaborations
Jan. 29 – March 15, 2009
Mark Dean Veca is renowned for creating paintings, drawings and installations that portray surreal cartoons, psychedelic landscapes, and pop culture iconography while also being inspired by long-established decorative motifs. He is widely recognized for his all-encompassing installations that surround the viewer and inspire a sense of awe. Revealing fantastical and, at times, humorous imagery with frenzy and pattern-like precision, his works often resemble a modernized interpretation of toile painting. In the 1998 catalogue for Veca's El Gloominator exhibition, Steve Mitchell asserts that "Veca works in the meticulous tradition of the fresco painter to produce an image that paradoxically evokes the immediacy of the graffiti artist."
This solo exhibition will for the first time present a comprehensive overview of his practice, including two new wall paintings, one inside the gallery and one outside, documentation and studies for previously realized projects, paintings on a variety of surfaces and works that he has made with companies such as: Ford Motors, Nike, Burton Snowboards; editions he has produced in collaboration with museums; and works made with other artists such as the New York artist and designer KAWS.
Marc Dean Veca was born in Shreveport, Louisiana in 1963. He received his Bachelor of Fine Arts from Otis College of Art and Design in 1985. He currently lives and works in Los Angeles.
Mark Dean Veca's work has been exhibited throughout the United States, Europe, and Japan at institutions such as The Aldrich Museum of Contemporary Art, PS 1 Contemporary Art Center, The Brooklyn Museum of Art, The Bronx Museum of the Arts, and Yerba Buena Center for the Arts. Veca's work has been reviewed in numerous publications including The New York Times, Artforum, Art in America, Art Review, Juxtapoz, and Flash Art. Amongst his many honors, Veca has twice received the New York Foundation for the Arts Fellowship and was awarded a Pollock-Krasner Foundation Grant in 2006. Veca's recent solo exhibitions include Imbroglio (2007) at the Jonathan LeVine Gallery.
---
2008
Fear Minus One
Nov. 14, 2008 – Jan. 11, 2009
Spencer Finch, Graham Gussin, Gabriel Lester, Takeshi Murata, and Christian Tomaszewski
Fear Minus One focuses on five artists who use preexisting films as their source, particularly in this selection, movies that have a sense of foreboding or fear as part of their dynamic. Through their interaction with the original its form is changed, be it as the result of translation, transcription, editing or recreation, but remains strongly referenced in the final piece. Collectively these five individual works transform the gallery into a site for the imagination, where the relationship between narrative and image can be examined and the creation of illusion explored.
Spencer Finch's West (Sunset in my motel room, Monument Valley, February 26, 2007, 5:36 – 6:06 pm) uses the light from nine video monitors, which display a changing selection of stills from John Ford's 1956 epic and violent Western The Searchers. The gallery bathed in this reflected light is transformed from day to night exactly mimicking, over a 30-minute period, the color and intensity of the fading twilight. Graham Gussin's Dark Light Piece, Night of the Living Dead (Luminosity Wave Form) uses the entire film, Night of the Living Dead (1968), as seen through a light-measuring screen used on edit suites. This translation turns the images into a kind of ectoplasmic landscape, through which the movement of the camera and barely recognizable figures become enhanced yet are abstracted. Gabriel Lester similarly reworks Francis Ford Coppola's The Conversation (1974) in the form of a computer controlled light installation. 50 individual lights bathe an open sided room in a range of colors and hues that evoke the moods and scenes of the film as its soundtrack plays in its entirety. Takeshi Murata twists and stretches sequences of the classic Italian horror movie Black Sunday (1960) using a technique he calls "VideoSlime." Each frame is digitally rendered sifting black and white images through graduations of abstraction in fluid motion while hyping up the menace redolent through out the film. Christian Tomaszewski has previously reconstructed parts of David Lynch's Blue Velvet (1986) in real space: exploring the ability of architectural fragments to convey dramatic narrative. Through his installations he superimposes two different structures, the one belonging to the film and the one of the architecture, which together become a third reality. For Fear Minus One he turns his attention to Giulio Berruti's Killer Nun (1978).
Spencer Finch was born in New Haven, Connecticut in 1962, and lives and works in Brooklyn. He has had solo exhibitions at: MASS Moca; ArtPace, San Antonio; Portikus, Frankfurt am Main, Germany, and the Wadsworth Atheneum, Hartford. Graham Gussin was born in London in 1960 where he lives and works. He has had solo shows at: Ikon Gallery, Birmingham; Centre d'Art Santa Mònica, Barcelona; Galerie Chantal Crousel, Paris; New Museum of Contemporary Art, New York; and Tate Britain London. Gabriel Lester was born in Amsterdam in 1972 where he lives and works. He has had solo exhibitions at: SMBA, Amsterdam; Bloomberg Space, London; Boniers Konsthal, Stockholm; Glucksman Gallery, Cork; and Gallery Fons Welters, Amsterdam. Takeshi Murata was born in Chicago in 1974 and lives and works in New York. He has had solo exhibitions at: Layr Wuestenhagen Contemporary, Vienna; Ratio 3, San Francisco, CA; Gallery Sora, Tokyo, Japan; Hirshhorn Museum and Sculpture Garden, Washington DC; The Kitchen, New York, and The Reliance, London. Christian Tomaszewski was born in Gdansk, Poland in 1971, and lives and works in New York. His work has been exhibited at: Centre for Contemporary Art Ujazdowski Castle, Warsaw; the First Bienniale of Polish Art, Lodz; the Bronx Museum of Art, New York; Fondazione Querini Stampalia, Venice; Skulpturenmuseum Glaskasten, Mar; and Kunstsammlungen Chemnitz.
---
Shaun Gladwell
July 25 – Oct. 12, 2008
Shaun Gladwell is one of Australia's most prominent younger artists. The exhibition features a number of major works never before shown in the United States, including works from his latest ongoing series Maddest Maximus.
Gladwell's practice critically engages personal experience as well as wider speculation upon art history and the dynamics of contemporary culture. This range of interest and sources is explored through a variety of mediums, but in recent years most particularly video installation. His recent projects in video have made discursive links between historical models and understanding of the body in space such as the flâneur and contemporary cultural figures such as the skateboarder, the motocross rider, the freestyle BMX rider, the graffiti artist and other physical and street performers. The work generally deals with performative figures in space, disrupting the social and architectural programming of urban spaces in particular. As this ongoing investigation of spatial articulation has deepened and gathered momentum it has begun to more closely inform and be reflected in the installation structures of the work itself, with an increased experimentation with multi-channel formats and architectural features as projection surfaces.
Gladwell's work also experiments with certain traditional or established representational genres and concepts. For example, the genre of the romantic landscape and its association with traditional concepts such as the sublime is handed over to – or co-opted by – contemporary practices such as skateboarding or break dancing. However, his practice does not attempt to either simply update or recuperate traditional models. On the contrary, the traditional model and current cultural practice cross-infect each other, nor is the continued use of 'street' or 'subcultural' activity directly claimed within the category of 'art'. Rather, the popular projections of such cultural activity are both destabilized and transformed. The fast and furious MTV jump-cut editing of these popular representations are resisted through the use of slow motion and ambient soundscapes. The results are poetic, hypnotic and meditative representations that open the represented activities themselves to a wide range of readings not immediately associated with either their sources or my apparent subject matter.
Shaun Gladwell was born in 1972, Sydney, Australia. His work has been exhibited in major national and international exhibitions including: Yokohama 2005 Triennale of Contemporary Art; First We Take Museums, KIASMA, Finland; and Space Invaders, Museum Kunsthaus Baselland, Switzerland. He was represented in the 2006 Biennales in Busan (South Korea), Sao Paulo (Brazil), 2007 Venice Biennale, 2008 Sydney Biennale and Taipei Biennial.
In 2009 he will represent Australia in the Venice Biennale with a solo exhibition in the Australian pavilion.
---
MFA 08
June 6 – July 6, 2008
Seth Augustine, Kate Barclay, Cathy de la Cruz, Deanna Erdmann, Kate Hoffman, Scott Horsley, Sara Hunsucker, Derek Lomas, Jennifer Medlin, Elyse Montague, Adam Moyer, Owen Mundy, Kelly Pendergrast, Iana Quesnell, Katherine Sweetman, Nina Waisman, Kate Wall, Felipe Zuñiga
The University Art Gallery is delighted to present its annual exhibition of work by the graduating Masters of Fine Art students from the Department of Visual Arts at the University of California, San Diego. The work of these eighteen emerging artists ranges from interactive media, sculpture, film/video, photography to installation and reflects the culmination of their time spent at UCSD.
Adriene Jenik, MFA graduate program faculty advisor said:
"As a whole, the work of our recent Masters in Fine Art graduates reflects the impulses, obsessions and networks of exchange at play in contemporary art today. The work also reflects the overarching commitment within the Visual Arts Department to fostering art making and art discourse in a truly inter-media environment. At University of California San Diego, it is understood that art emerges from an often messy tangle of ideas, material engagement, intellectual research, and conversation."
---
REVOLUTIONS: Selected works from the collection of Isabelle and Jean-Conrad Lemaître
March 28 – May 17, 2008
Selected works from the collection of Isabelle and Jean-Conrad Lemaître.
Jennifer Allora & Guillermo Calzadilla, Fikret Atay, Yto Barrada, Yeal Bartana,
Johanna Billing, Ulla von Brandenburg, Dominique Gonzalez Foerster, Emily Jacir, Hassan Khan, Sigalit Landau, Nikolaj Bendix Skyum Larsen, Steve McQueen, João Onofre, de Rijke/de Rooij, Bojan Šarčević, Zined Sedira, Mariana Vassileva, and Mark Wallinger
The University Art Gallery at University of California, San Diego, is delighted to present a selection of 18 video works from the collection of Isabelle and Jean-Conrad Lemaître. For the last seven years these London based French collectors have been collecting almost exclusively video work. The collection includes artists from all over the world and at the latest count numbers 80 works. This selection includes work by artists originating from Cuba, Denmark, Egypt, France, Germany, Israel, The Netherlands, Palestine, Portugal, Serbia, Sweden, Turkey, United Kingdom, and United States.
Focusing primarily on younger artists the collection demonstrates many approaches to making film and video from the use of a simple gesture or intervention, the documentation of people and events, to the staged and performative. This, in turn, reflects many of the themes and concerns of today, the way social and political change is manifested and reflected in everyday life, a fascination with the negotiation of boundaries both physical and metaphoric, and a reflection of the kaleidoscopic nature of human beings, their emotions, and their lives. Collectively, they announce the arrival of a new generation of internationally recognized video artists who choose to occupy the gallery space yet talk of the world outside it.
Revolutions will occupy six especially created rooms, which will house both projected works and pieces shown on monitor. Each work, ranging from 80 seconds to 30 minutes in length, will be shown sequentially creating a complete cycle lasting almost three hours, and require the visitor to complete three rotations of the gallery.
---
In the Beginning
Jan. 19 – March 8, 2008
Jesus Aguilar, Ricci Albenda, Fiona Banner, Peter Davies, Tami Demaree, Graham Gillmore, Danielle Gustafson-Sundell, Emma Kay, Justin Lieberman, João Louro, Ján Mancuška, T. Kelly Mason, Dominic McGill, Aaron Parazette, Fernando Pintado, Monique Prieto, Maya Schindler, Bob & Roberta Smith, Mark Titchner and Cerith Wyn Evans.
The University Art Gallery at the University of California, San Diego is delighted to announce the reopening of it's gallery space after a period of extensive renovation with the first exhibition in a year round program under the curatorial directorship of Stephen Hepworth who has recently relocated from London where he was the associate curator at Bloomberg Space.
The opening exhibition In the Beginning takes its cue from the strong involvement West-coast artists have had with text, particularly during the 1960s and 1970s, and looks at a newer international generation of artists whose practice focuses as much on appearance and form as much as what the words say.
In the Beginning features the work of 20 artists from Europe and America in a range of media including painting, sculpture and video. Collectively they reflect a cross section of contemporary approaches and subjects. For Peter Davies, Monique Prieto and Aaron Parazette words and phrases become the very thing they paint, while Cerith Wyn Evans and Maya Schindler use words and text as sculptural form that is both a representation and a physical manifestation of itself. Jesus Aguilar and Fiona Banner both compress and expand our experience of time, while Rici Albenda distorts text in order to propose new perspectives. Graham Gillmore and Emma Kay employ the layering and interconnectivity of text to evoke ideas and memories where as Justin Lieberman and Dominic McGill are concerned with its use as a tool to investigate and reveal contemporary society, politics and culture. João Louro, T. Kelly Mason, and Ján Mancuška engage with the possibility of narrative, while Bob & Roberta Smith, Danielle Gustafson-Sundell and Mark Titchner offer stories, musings and slogans, and Fernando Pintado and Tami Demaree both represent and question language as an authentic carrier of expression.
2007
MFA07 @ The Egyptian
Nov. 10 – 18, 2007
Veronika Bauer, Carl Burton, Raúl Cárdenas Osuna, J. Tanner Cusick, Sergio de la Torre, Evelyn Donnelly, Julia Dzwonkoski, Jocelyn Jacobs, Emiko Lewis-Sanchez, Sharon Levy, Patrick Miller, Patricia Montoya, Steven Rubin, Tristan Shone, Robert Twomey, Caleb Waldorf
The University Art Gallery at University of California San Diego is delighted to announce an exhibition that showcases the work of 16 graduating students from its Masters of Fine Art program.
"In a sense this show has been a long time coming. It represents the culmination of at least three years study. A collective public outing of artists who have become each other's peers. Relationships between the works are tenuous, fragile links artificially forged through proximity. While no trends are discernable, the force of individual visions burns strongly."
Stephen Hepworth, Curator UAG
"Trees that take possession of the indoors, moving images that transport us, via the maquiladoras and rooftops of Tijuana to the desert, to outerspace. A symphony of bicycle bells, mysterious machines and more mysterious drawings. It is with great pleasure that I have watched the work in this show unfurl, and it is exiting now to see the work installed, to see it with new eyes, to witness a conversation as the art works speak to one another."
Lesley Stern, Chair, Department of Visual Arts, UCSD
---
2006
The Elephant vs. The Termite MFA 2006
April 7 – 27, 2006
Alan Calpe, Shashana Jaffee Chittle, Joelle Dietrick, Andrew Estep, Timothy Jaeger, Zerek Kempf, Justin Michell, Jorge Nava, Michael Podolak, Edward Porter, Stephen Remington, Annina Rust, Davina Semo, Shannon Spanhake, Joe Winter
The Elephant vs. The Termite  features the works of fifteen graduating Master of Fine Arts students from UCSD's Visual Arts Department. The exhibition reveals the blend of traditional art practices and new technologies, while simultaneously highlighting the diversity of the artistic practice and expression of the artists. The graduate programs at UCSD emphasize cross-departmental collaboration leading to new avenues of critical thought, artistic development, and technological innovation. Among the selection of drawing, painting, sculpture, installation, video and digital media included in the exhibition, viewers will find active dialogues throughout a variety of disciplines which challenge contemporary notions of space, perception and process.
The Elephant vs. The Termite is dedicated to Professor Emeritus Manny Farber, in recognition of his important contributions to the UCSD Visual Arts Department. Farber has been a major contributor to American cultural discourse for more than 50 years, both as a film critic and as a painter. The exhibition is titled in honor of Farber's influential essay on commercial cinema wherein he champions B-film and underappreciated directors for their termite-like ability to burrow into a topic (as compared to their bloated, pretentious and "white-elephant art" counterparts). Currently a professor emeritus, he was an active faculty member in the UCSD Visual Arts Department from 1970 to 1987.
The exhibition is curated by Rita Gonzalez, an assistant curator in the Center of Art of the Americas at Los Angeles County Museum of Art; Kathleen Stoughton, Director of the University Art Gallery, UCSD; and Professors Louis Hock and Ernest Silva of the UCSD Visual Arts Department.
Gallery Director: Kathleen Stoughton
---
New Visual Arts Faculty
Jan. 13 – March 25, 2006
From lithographs to examples of electronic civil disobedience, the diverse works of seven new University of California, San Diego Department of Visual Arts faculty members is currently featured in the University Art Gallery, UCSD.
New Visual Arts Faculty 2006 includes work by artist/photographer Amy Adler, media theorist Jordan Crandall, architect Teddy Cruz, "father of hacktivism" Ricardo Dominguez, techno-artist Natalie Jeremijenko and new-media/environmental artist Brett Stalbaum.
The show reflects the interdisciplinary focus central to both the UCSD Visual Arts Department and the gallery. The exhibited works demonstrate a research orientation and level of innovation and risk-taking that is highly valued by the university community. These faculty members are forging new paths in art-making and simultaneously enriching their students by example, encouraging them to also reach across media-specific boundaries.
Gallery Stoughton: Kathleen Stoughton
---
2005
Anastasi | Bradshaw | Cage | Cunningham
Oct. 7 – Dec. 10, 2005
In today's art world, the collaboration of artists and the blending of various media is a common occurrence. In the early years of the second half of the 20th century, artists William Anastasi, Dove Bradshaw, John Cage, and Merce Cunningham broke boundaries and embarked on artistic adventures in dance, music and the visual arts. Their explorations brought new perspectives to their own work, and continue to influence artists today.
Anastasi | Bradshaw | Cage | Cunningham focuses on the cross-pollination of ideas among Anastasi, Bradshaw, Cage and Cunningham during their years of friendship and professional collaboration The exhibit consists of 77 works spanning from 1950 to 2004, including video, sound, objects, sculpture, installation, drawing, painting, prints, artists' books and photography.
During the early eighties Cage served as musical advisor and Anastasi and Bradshaw were appointed artistic advisers to the Merce Cunningham Dance Company. Each artist formulated a fascinating personal method of working with chance in their artistic creations."
This exhibition was organized by Marianne Bech and Dove Bradshaw.
Gallery Director: Kathleen Stoughton
---
Regeneration: Contemporary Chinese Art from China and the US
May 13 – Aug. 12, 2005
Since the mid-eighties, there has been a growing interest in contemporary Chinese art in the West. After the death of Mao Zedong in 1976, decades of isolationism and strict cultural restrictions that greatly influenced the production and exhibition of art gave way to a period of remarkable and fast-paced development. This new work, these unfamiliar artists, this recent 'opening up' of a nation with over twenty percent of the world's population has become of increasing interest internationally.
Regeneration focuses on the work of twenty-six artists who reside in Beijing, Shanghai, Guangzhou, New York and Pennsylvania. While the work in this large survey is diverse and wide-ranging, the artists share some thematic concerns. Some employ or appropriate traditional Chinese art forms in new ways. Others investigate the significant recent social and cultural transformations occurring in China. All of the work represents the vital and rapid regeneration of contemporary life and culture in China.
Regeneration includes some of the most exciting contemporary Chinese art being made today – ranging from artists who have been prominent in the international scene since the late 1980s to emerging artists who are currently being recognized internationally.
This exhibition was organized by Samek Art Gallery, Bucknell University, Lewisburg, PA; curated by Dan Mills and Xiaoze Xie.
Gallery Director: Kathleen Stoughton
---
Now Happening MFA 2005
April 8 – 23, 2005
Brad Borevitz, Alex Dragulescu, Rachel Beth Egenhoefer, Christine Foerster, Katie Herzog, Matt Hope, Malisa Humphrey, Danny Jauregui, Tara Knight, Simone Lueck, Kimberly Manchester, Kia Neill, Mark Oliver, Ian Patrick, Kelly Sears, Yudi Sewraj, Joel Swanson, Sara Takahashi
Now Happening, an exhibition featuring the work of 18 graduating Master of Fine Art students from UCSD's Visual Arts Department, will be on view at the University Art Gallery, UCSD from April 8 – 23, 2005. The exhibition is dedicated to Professor Emeritus Allan Kaprow, a vital member of the UCSD Visual Arts faculty from 1974-1993.
Now Happening, features the diversity and challenging nature represented in the work of graduating Master of Fine Arts students from UCSD's Visual Arts Department. The exhibition is curated by Alison Gingeras, Curator of Contemporary Art at the Centre Georges Pompidou; Kathleen Stoughton, Director of the University Art Gallery, UCSD; and Professors Jordan Crandall and Ernest Silva of the UCSD Visual Arts Department.
The exhibition demonstrates the substantial diversity of artistic form and expression found in the works of the MFA students. A broad range of media is represented, including photography, painting, sculpture, installation, video, and digital media. Some works investigate the distinction between reality and fabrications while others experiment with perspective and the complexities of virtual reality. An assortment of works, expressing concepts through a multitude of symbols and materials, Now Happening comes to represent the forefront of contemporary art in our times.
Funding for the exhibition and catalogue is provided by the Division of Arts and Humanities and the Center for the Humanitites, UCSD.
Gallery Director: Kathleen Stouhton
---
Angelbert Metoyer
Jan. 21 – March 19, 2005
The University Art Gallery, UC San Diego presents Angelbert Metoyer in his first West Coast solo exhibition. Metoyer's work is a complex paradigm of incongruous shapes, found objects, math, science, ancestry, and spirituality, all intricately laced together. His compositions are made up of multiple parts to create an analogous whole – part star chart, part family tree, part diary and part official document; tied together with iconography, wit and style. But although each creation is saturated with information, the works are at the same time surprisingly serene. To add to this contradiction, Metoyer's work seems at time innocent with his improvisational gestures; but combined with highly symbolic marks of religion, cosmology and mythology there is also a sense of sophistication and the idea that Metoyer is creating a larger scheme to be decoded. The combination of past and present resides in the works of Metoyer. His art on one hand follows in the tradition of his father's people, ancestors who were medicine men in the villages of the Gold Coast in Africa. Metoyer is also an artist who engages in contemporary time and place. He is well aware of the rational and technological bias of popular American culture and revels in the challenge of introducing his unconventional and magical vision of the world.
---
2004
loudIMAGE: Luis Gispert
Oct. 14 – Dec. 11. 2004
---
The Last Days of Pompeii: Eleanor Antin
April 16 – June 12, 2004
---
In Finite Spaces: Doug Hall
Jan. 30 – March 20, 2004
---
2003
Mario Algaze: Cuba 1999-2000 & In Residence: The Photography of Stéphane Couturier and Edward Burtynsky
Oct. 3 – Dec. 13, 2003
---
Rebels in Clay
Feb. 7 – April 19, 2003
Peter Voulkos and the Otis Group.
---
2002
Representing Landscape
Oct. 25 – Dec. 26, 2002
Ciel Bergman, Jacci Den  Hartog, Marcelo Pombo, Darren Waterston, Leigh Li-Yun Wen, and Yek.
---
Object/Concept
April 5 – June 16, 2002
Amy Alexander, Sheldon Brown, Steve Fagin, Thomas Allen Harris, Louis Hock, Adriene Jenick, Barbara Kruger, Ernest Silva, Lev Manovich, Kim MacConnel, Jennifer Pastor, Faith Ringgold, Italo Scanga, Phel Steinmetz, and Babette Mangolte.
---
Altered States
Jan. 17 – March 23, 2002
Edward Burtynksky and Stephane Couturier.
---
2001
Confluence: Philip Taaffe
Oct. 5 – Dec. 8, 2001
---
This is Not a Photograph
April 6 – June 16, 2001
---
Obsessions
Jan. 19 – March 23, 2001
Phil Binaco, Bill Scanga, Robin Charles Clark, Margo Schriber, Bruce Conner, Fred Tomaselli, Gary Gissler, Spencer Tunick,Teo Gonzalez, Nancy Webber, Gabrielle Kanter, Anne Wilson, Guy Limone, Kumi Yamashita, Jay McCafferty.
---
2000
Tony Oursler
Oct. 13 – Dec. 9, 2000
---
Art on Art: Dale Chihuly and Italo Scanga in Collaboration
Aug. 3– 26, 2000
---
Diego Esposito
April 14 – May 27, 2000
---
Living in Context
Jan. 28 – March 18, 2000
Robin Brisebois, James Brwin, Kathleen McCormick, Rob Wellington Quigley, Jonathon Segal, Ted Smith, and Lloyd Russell.
1999
Nature/Process
Oct. 2 – Dec. 11, 1999
Garnett Puett, Mario Resis, Mineko Grimmer, Roger Ackling, Dove Bradshaw, Daniel Ladd, Jonathan White, and Canan Tolon.
---
Caio Fonseca
Aug. 4 – 28, 1999
---
Zoo Story
June 12 – July 24, 1999
Jean Lowe and Kim MacConnel.
---
New Voices/New Visions
April 9 – May 29, 1999
---
Hung Liu: Ten Year Survey
Jan. 23 – March 16, 1999
---
1998
Peter Sarkisian: Dusted
Sept. 26 – Dec. 12, 1998
---
Thirty-Five Years at Crown Point Press
June 30 – Aug. 29, 1998
Sol Lewitt, William Bailey, Francesco Clemente, Hans Haacke, Chuck Close (Incomplete List of Artists).
---
Eight on the Edge
April 25 – June 13, 1998
Ricardo Legorreta, Mark Mack, Eric Owen Moss, Antoine Predock, Rob Wellington Quigley, the team of Tod Williams and Billie Tsien, and Wallace Cunningham.
---
VisAlchemical: New Directions in Contemporary Glass Sculpture
Jan. 10 – March 21, 1998
Howard Ben Tré, Dale Chihuly, Kiki Smith, Italo Scanga, Alessandro Diaz de Santillana.
---
1997
Gary Hill: Tall Ships
Sept. 26 – Dec. 4, 1997
---
Presence
June 12 – July 26, 1997
---
UCSD Visual Arts 30th Anniversary Faculty Exhibition
April 12 – May 24, 1997
Eleanor Antin, Manny Farber, Ernest Silva, Faith Ringgold, Jerome Rothenberg, Helen and Newton Harrison, Fred Lonidier, David Antin, Patricia Patterson, Kim MacConnel, Babette Mangolte, Harold Cohen, Italo Scanga, Phel Steinmetz, Steve Fagin.
---
Seduced by Surface
Jan. 31 – March 22, 1997
Stephanie Peek, Jessica Snow, Katherine Sherwood, Wendy Sussman, Tomas Nakada, Christopher Brown, Squeak Carnwath, and Pegan Brooke.
---
1996
Dear Vocio… Photographs by Tina Modotti
Nov. 8 – Jan. 11, 1997
---
The Music Box Project
April 11 – June 1, 1996
Vito Acconci, Laurie Anderson, Gretchen Bender, John Cage, John Cale with Joseph Kosuth, Fortuyn/O'Brian, Aminah Robinson and Kiki Smith with Margaret De Wys.
---
After Art: Rethinking 150 Years of Photography
Feb. 8 – March 23, 1996
---
1995
Ross Bleckner
Nov. 2 – Dec. 8, 1995
---
John Ahearn: A Decade of Figurative Sculpture
Jan.14 – Feb. 26, 1995
---
Faculty Exhibition: 1995
Jan. 14 – Feb. 26, 1995
Eleanor Antin, Sheldon Brown, Harold Cohen, Steve Fagin, Manny Farber, Jean-Pierre Gorin, Thomas Allen Harris, Helen Mayer Harrison, Newton Harrison, Allan Kapro, Babette Mangolte, Patricia Patterson, Faith Ringgold, Jerome Rothenberg, Italo Scanga, Ernest Silva, Phel Steinmetz.
---
1994
Real Hieroglyphics Photographed in Egypt, 1850-1900
Nov. 10 – December 1994
Francis Frith, Maxime Du Camp, Felix Teynard, Francis Bedford, J. Pascal Sebah, Antonine Beato, the Zangaki brothers, Maison Bonfils, W. Hammerschmidt and G. Lekegian.
---
Apparitions by Vital Signs
Sept. 23 – Oct. 20, 1994
inSITE (?), (Incomplete List of Artists).
---
Overlays from the Garden
May 13 – June 12, 1994
Linda Fross Asakawa, Trine Bumiller.
---
Carol Jacque: Recent Work
April 9 – May 8, 1994
---
Contemporary Visions
March 5 – April 2, 1994
Ante Marinovic, Mario Uribe.
---
Magdalena Abakanowicz: Recent Work
Jan. 15 – Feb. 27, 1994
---
1993
Lari Pittman: Paintings and Works on Paper, 1989-1993
Nov. 6 – Dec. 12, 1993
---
Documenting America
Sept. 24 – Oct. 31, 1993
Esther Bubley, John Collier Jr., Marjory Collins, Jack Delano, Walker Evans, Dorothea Lange, Russell Lee, Gordon Parks, Arthur Rothstein, Ben Shahn, John Vachon and Marion Post Wolcott.
---
Ceramic Variations
March 20 – April 25, 1993
Tré Arenz, Rachel Clawson, Berry Matthews.
---
Conrad Atkinson: Selected Works
March 20 – April 25, 1993
Tré Arenz, Rachel Clawson, Berry Matthews.
---
Conceptual Sculpture: Body and Soul
Jan. 20 – March 7, 1993
Brent Riggs, Daniel Wheeler, Larissa Wilson.
---
Contact: Photojournalism Since Vietnam
Jan 5 – 24, 1993
Jose Azel, David Burnett, J.B. Dederich, Frank Fournier, Kenneth Jarecke, Annie Leibovitz, Dilip Mehta, Alon Reininger.
---
1992
Three British Book Artists
Nov. 7 – Dec. 13, 1992
Ian Hamilton Finlay, Tom Phillips, Ian Tyson.
---
Manny Farber: Black and White Paintings, 1985-1991
Sept. 26 – Nov. 1, 1992
Manny Farber.
---
Leon Golub: Worldwide
May 23 – June 21, 1992
Leon Golub.
---
Sculptural Installations
April 11 – May 17, 1992
Manfred Muller, Julia Lohmann.
---
UCSD Faculty Exhibition 1992
Feb. 22 – March 29, 1992
Harold Cohen, Faith Ringgold, Helen Mayer Harrison, Jerome Rothenberg, Newton Harrison, Italo Scanga, Kim Macconnel, Ernest Silva, Patricia Patterson, Phel Steinmetz.
---
Video Works by UCSD Faculty and Graduate Alumni
Jan. 11 – Feb. 9, 1992
Eleanor Antin, Steve Fagin, Allan Kaprow, Fred Lonidier, Victoria Bearden, Dan Boord, Jane Cottis, Moyra Davey, Helen De Michiel, Greg Durbin, Kip Fulbeck, Wendy Geller, Gene Gort, Frank Grow, Bob Harris, Robert O. Kinney, Robert Lawrence, Barnaby Levy, Sherry Millner, Susan Mogul, Stephen 0'Riordan, Jan Peacock, Martha Rosler, Jayce Salloum, Joyan Sanders, Jason Simon, Erika Suderburg, Christine Tamblyn and Ann Torke.
---
1991
Dana Salvo: Mexican Retablo Paintings
Nov. 2 – Dec. 15, 1991
Danna Salvo (Incomplete List of Artists).
---
Derek Boshier: New Paintings
Sept. 28 – Oct. 27, 1991
Derek Boshier.
---
Three Dimensions
May 18 – June 16, 1991
Lee Boroson, Tom Driscoll, Amanda Farber, Judith Hersko.
---
Constructed Images: New Photography
April 13 – May 12, 1991
Albert Chong, James Connor, Joan Eda, Tyrone Georgiou, Ani Gonzalez-Rivera, Todd Gray, Leah Jaynes Karp, Geno Rodriguez, Jeffrey Scales, Coreen Simpson, Lorna Simpson, Clarissa Slight, Elisabeth Sunday, Christian Walker and Pat Ward Williams.
---
Ansel Adams: Fiat Lux, The Museum Set
March 2 – April 7, 1991
Ansel Adams.
---
Alexis Smith: Public Works
Jan. 12 – Feb. 24, 1991
Alexis Smith.
---
1990
Framed
Nov. 9 – December 1990
Barbara Steinman, Norman and Bruce Yonemoto.
---
Echoes of Surrealism
Sept. 29 – Oct. 28, 1990
Mark Bryan, Carolyn Cardenas, Ethel Greene, Karla Holland-scholer, Wolfgang Jasper, Cythia Kelsey-Gordon, Shari Lamanet, Deborah F. Lawrence, Barney Reid, Phyllis Shafer, Paul Singdahleen, Peter Steams.
---
Spatial Encounters
May 25 – June 24, 1990
Craig Stecyk and Fre Thieme.
---
Shaping the City
April 7 – May 13, 1990
Stanton Eckstut, Barton Mayers, James Rouse, Daniel Solomon.
---
Seven Sculptors
Feb. 24 – March 25, 1990
David Engbritson, Carol Hepper, Yolande McKay, Creighton Michael, Michael Peed, Zizi Raymond, Wade Saunders.
---
Double Feature: James Trivers
Jan. 10 – Feb. 18, 1990
James Trivers.
1989
Komar and Melamid: Recent Work
Oct. 21 – Dec. 10, 1989
Vitaly Komar, Alexander Melamid.
---
Chile From Within and Arpilleras: The Chilean Murals of Today
Sept. 20 – Oct. 15, 1989
---
Richard Bosman: Gifts of the Sea
May 20 – June 25, 1989
Richard Bosman.
---
Annual VII: Wall-mounted Works
April 15 – May 14, 1989
William Beckley, Madeleine Carolan, Michael Cuddington, Susan Leopold, Lori Precious, Chris Wilder.
---
Robert Israel: A Decade of Theater Design
March 11 – April 9, 1989
Robert Israel.
---
Architecture: Shaping the Future
Jan. 4 – Feb. 26, 1989
Richardo Legorreta, Fumihiko Maki, Richard Meier, Richard Roger.
---
1988
Cam Slocum: Still Gronk: A Wall Piece
Nov. 12 – Dec. 11, 1988
Gronk, Slocum.
---
Drawings by Ten
Oct. 1 – Nov. 6, 1988
Erica Daborn, Dennis Leon, Don Suggs, Wolfgang Jasper, John Monti, Millie Wilson, Mike Kelley, Mark Perlman, David Wilson, Fran Siegel.
---
Diversity Presence
May 21 – June 19, 1988
Eleanor Antin, Judith Baca, Kathleen Bick, Cheryl Bowers, Joan Brown, Frances Butler, Squeak Carnwath, Irma Cavat, Barbara Drucker, Helen Harrison, Anne Healy, Gyongy Laky, Sylvia Lark, Kathryn Metz, Mary O'Neal, Patricia Patterson, Lucy Plus, Faith Ringgold, Victoria Rivers, Cornelia Schulz, Barbara Shawcroft, Patricia Wickman.
---
Faculty Exhibition: 1988
April 6 – May 15, 1988
Eleanor Antin, Harold Choen, Steve Fagin, Jean-Pierre Gorin, Helen Mayer Harrison, Newton Harrison, Louis Hock, Tony Labat, Seaver Leslie, Fred Lonidier, Kim MacConnel, Babette Mangolte, Peter Phillips, Faith Ringgold, Martha Rosler, Robert Sanchez, Italo Scanga, Ernest Silva, Elizabeth Sisco, Phel Steinmetz.
---
Richard Allen Morris: A Sense of Place
Feb. 27 – March 27, 1988
Richard Allen Morris.
---
Young American Artists VI: Abstractions of the Eighties
Jan. 9 – Feb. 9, 1988
Richard Baker, Edith Baumann-Hudson, Dave DeBuck, John Eden, Michael Roberts, Pauline Stella Sanchez.
---
1987
Toy Show: 1810-1960
Nove. 7 – Dec. 13, 1987
---
New Traditions: Thirteen Hispanic Photographers
Sept. 26 – Oct. 31. 1987
Marga Clark, Benedict J. Fernandez, Marco Kallech, George Malave, Adal Alberto Maldonado, Becky Mayer, Tony Mendoze, Marcelo Montecino, Geno Rodriquez, Emillio Rodriguez-Vazquez, Sebastiao Salgado, Richard Sanchez, Andres Serrano.
---
The Situated Image
May 15 – June 14, 1987
Janet Delaney, Juan Downey, Gary Hill, Tony Labat, Michael Naimark, Anita Thacher, David Wilson.
---
Sculpture Arenas
April 3 – May 3, 1987
Chris Burden, Kenneth Capps, Jil Giegrich, Mathieu Gregoire, Margret Honda, Mark Lee.
---
Joe Brainard
Feb. 20 – March 15, 1987
Joe Brainard.
---
Young American Artists V
Jan. 10 – Feb. 15, 1987
Madden Harkness, Tim Hawkinson, Patty Wickman.
---
1986
Selected Works from MOCA's Lowen Collection
Nov. 8 – Dec. 14, 1986
John Ahearn, Jean Michel Basquiat, Richard Bosman, Neil Jenney, Ansel Kiefer, Brice Marden, Malcolm Morley, Susan Rothenberg, Daivd Salle, Julian Schnable, Terry Winters.
---
Photography: Suggestions and Facts
Oct. 10 – Nov. 2, 1986
Ann Chamerlain, Donigan Cumming, Nic Nicosia.
---
Japanese Art Today
May 16 – June 22, 1986
Kazuo Kadonaga. Yayoi Kusama, Ryoichi Majima, Goro Namerikawa, Kazuo Shiraga, Katsuro Yoshida.
---
Humberto Spindola: Pueblo
April 12 – May 11, 1986
---
The Performance Paintings of the Drawings of Legion
March 8 – March 23, 1986
---
Young American Artists IV
Feb. 8 – March 2, 1986
Rod Baer, Squeak Carnwath, James Patrick Finnegan, Davis Klamen, Alison Saar.
---
Symbol/Allegory
Jan. 3 – Feb. 2, 1986
Lois Colette, John Fudge, Steve Galloway, Marjorie Nodleman.
---
1985
Belle Baranceau- A Retrospective
Oct. 5 – Nov. 5, 1985
Belle Baranceau.
---
Pioneers in Paradise
June 1 – July 7, 1985
---
Paul Branch Retrospective
June 1 – July 7, 1985
Paul Branch.
---
Landscape Now
April 20 – May 19, 1985
Brian Longe, Michael Lucero, Constance Mallison, Robert Gil de Montes, Pierre Picot, Judith Simonian.
---
Young American Artists III
March 16 – April 14, 1985
Rosann Berry, Barbara Dorris, David French, Ming Murray, Garrison Roots.
---
Beyond the Monument and the UCSD Stuart Collection
Feb. 8– March 10, 1985
---
New American Video Art: A Historical Survey, 1967-1980
Jan. 4 – Febr. 3,1985
---
1984
Theodrone Waddell
Nov. 2 – Dec. 9, 1984
Theodrone Waddell.
---
Faiya Fredman Akroteri Series
Sept. 22 – Oct. 28, 1984
---
Faculty Exhibition: 1984
May 25 – June 24, 1984
Eleanor Antin, Harold Cohen, Manny Farber, Helen Mayer and Newton Harrison, Louis Hock, Allen Kapro, Seaver Leslie, Fred Lonidier, Chip Lord, Parricia patterson, Faith Ringhold, Italo Scanga, Ernest Silva, Philip Steinmetz.
---
Contextual Furnishing
March 10 – April 15, 1984
Jim Isermann, Roy McMakin, Nick Vaughn.
---
Lettrisme: Into the Present
March 10 – April 15, 1984
---
1983
Chicago Scene
Nov. 11 – Dec. 18, 1983
D.L. Bean, Beth Berolzhemimer, Phyllis Bramson, Bill Cass, Jeff Colby, Gene Coleman, Paolo Colombo, Arturo Cubacub, John Dilg, Rose Divita, Michele Feder-Nadoff, Joyce fernandez, Wayne Fielding, Phi; Hanson, Karl Hauser, Richard Hull, Michiko Itatani,  Vera Klement, E.D. Klepper, Suzan Kunz, Jim Lutes, John Manning, Robert McCauley, Jeanine Mellinger, Mark Petrick, Tony Philips, Gordon Powell, Christina Ramberg, Dan Ramirez, Edward Rankus, Hollis Sigler, Brent Sparlin, Janice Tanaka, Lynn Webster, Guy Whitney, Karl Wirsum.
---
Young American Artists II
Sept. 30 – Oct. 30, 1983
Glen Rubsamen, Lari Pittman, Janet Tholen, Naomi Bartus, Michael Farber.
---
New Epiphanies
May 27 – June 26, 1983
Miroslav Antic, Mary Beth Edelson, Howard Finster, Brenda Goodman, Barbara Houghton, Peter Huttinger, Thomas Lanigan-Schmidt, Frank Lind, Richard Long, William 'Wylie' Lucero, Tom Marioni, Andy Nasisse, Pedro F. Perez, Elijah Pierce, Konstantine Pilarinos, Herman Raymond, Nellie May Rowe, Tony Joseph Salvatore, George Lopez, Chris Trujillo, Leo G. Salazar, Jose Mondragon, Ken Saville, Italo Scanga, Randy Schmidt, Susan Sensemann, Audrey Skoudas, Sam Thurston, Edgar Tolson, Michael Tracy.
---
Terry Allen Works
April 15 – May 22, 1983
Terry Allen.
---
At Home with Architecture
Feb. 10 – March 20, 1983
Arquitectonica, Peter Eiseman, Michael Graves, Moore Ruble Yudell, Rob Wellington Quigley, Susana Torre, Frank O. Gehry, Tod Williams and Associates, Batey & Mac, Venturi, Rauch, Scott Brown.
---
Video/TV:Humor/Comedy
Janu.7 – Jan. 30, 1983
Tom Adair, Laurie Anderson, Ant Farm/T.R. Uthco, Jules Backus, Kenn Beckman, Skip Blumberg, Bob & Bob, Dan Brood, Peter Brownscombe, Ferris Butler, Teddy Dibble, Kit Fitzgerald/John Sanborn, Howeard Fried, General Idea, Daidson Gigliotti, Louis Grenire, Ernest Gusella, Doug Hall, James Hartel, Julia Heywood, Dale Hoyt, The Kipper Kids, Mitchell Kriegman, Alan Lande, Pier Marton, Tony Mascatello, Tim Maul, Laurie McDonald, Tony Oursler, Nam June Paik, Kenneth Robbins, Llene Segalove, Tom Sims, Michael Smith, brad Stensberg, Jeff Strate, Ed Tannenbaum, Twin Art, Willie Walker, William Wegan, Graeme Whifler.
---
1982
Young American Artists
Nove. 6 – Dec. 5, 1982
Margery Amdur, Graham Budgett, Dan Rice, Gary Robbins.
---
Drawings by Painters
Septe. 24 – Oct. 31, 1982
Martha Air, Peter Alexander, Joel Bass, Robert Bechile, William Brice, Joan Brown, Karen Carson, Vija Celmins, Daniel Crytron, Roy de Forest, Tony DeLap, Richard Diebenkorn, Dan Douke, Manny Farber, Sam Francis, Denise Gale, Charles Garabedian, Jeremy Gilbert-Rolfe, Joe Goode, Heidi Hardin, Maxwell Hendler, Charles Hill, Tom Hoiste, Richard Jackson, Craig Kauffman, Kim MacConnel, Arnold Mesches, Joan Moment, Ed Moses, Lee Mullican, Nathan Oliveria, Margit Omar, Gordon Onsloe-ford, Patrica Paterson, Astrid Preston, Janis Porvisor, Cherie Raciti, Joseph Raffael, Sanda Rubin, Ed Ruscha, Ursula Schneider, Don Sorenson, Louise Stanley, Rick Stich, David Storey, Don Suggs, Wayne Theibaud, Joyce Treiman, Ann Thorneucroft, William Wiley, Andrew Wilf, Tom Wudi.
---
Vision 82: Biological Photography
July 25 – July 29, 1982
---
New Work, New York
May 1 – June 11, 1982
Tom Butter, Tom Evans, John Fekner, Judith Hudson, Peter Jullian, Cheryl Laemmle.
---
Artists and the Theatre
March 20 – April 25, 1982
Natalie Gontcharova, David Hockney (Incomplete List of Artists).
---
5 From L.A.
Febr. 20 – March 14, 1982
Kiki MacInnis, Michael Kelley, Michael McMillen, Jeffrey Vallance, Mary Jones.
---
A Decade of Women's Performance Art
Jan. 21 – Feb. 11, 1982
Laurie Anderson, Eleanor Antin, Jacki Apple, Ida Applebroog, Judith Bary, Nancy Buchanan, Judy Chicago, Suzanne Lacy-Sandra, Orgel-Aviva Rahmani, Besty Damon, Norma Jean Deak, Mary Beth Edelson, Feminist Art Workers, Simone Forti, Tina Girouard, Donna Henes, Lynn Hershman, Poppy Johnson, Joan Joanas, Alison Knowles, Leslie Labowitz, Suzanne Lacy, Linda Montano, Pauline Oliveros, Adrian Piper, Yvonne Rainer, Rachel Rosenthal, Martha Rosier, Carolee Schneemann, Jill Scott, Bonnie Sherk, Theodora Skipitares, Barbara Smith, Mierie Ukeles, The Waitresses, Faith Wilding, Hannah Wilke, Martha Wilson.
---
John Buck: A Month of Sundays
Jan. 9  – February 1982
John Buck.
---
1981
Niki de Saint Phalle: Monumental Projects
Oct. 16 – Nov. 25, 1981
---
Five Photographers
Sept. 15 – Oct. 9, 1981
Louis Carlos Bernal, Robert C. Buitron, Alberto Lau, Meridel Rubenstein, Richard Tichich.
---
Crow's Fête
May 21 – June 12, 1981
---
SITE: Buildings and Spaces
April 5 – May 14, 1981
---
Color Photography: New Images
Feb. 6 – March 15, 1981
Ellen Brooks, William Eggleston, Mitch Epstein, Joe Maloney, Jan Groover, David Haxton, Len Jenshel, Joel Meyerowitz, John Pfahl, Joel Sternfield.
---
Impressions/Expressions
Jan. 6 – Jan. 28, 1981
Scipio Moorhead, Sargent Johnson, Raymond Steth, Elizabeth Catlett, James Wells, Betye Saar (Incomplete List of Artists).
---
1980
Figurative Art
Nov. 7 – Dec. 11 1980
Joan Brown, Robert Colescott, Roy DeForest, Day Garson, Janis Provisor and Jan Wurm.
---
Bern Schwartz
Oct. 6 – 30, 1980
Bern Schwartz.
---
Bill Fontana/Sound Recycling Sculpture: Incoming Wavefronts Meeting a Shape of Land Over Time
Sept. 26 – Oct. 17, 1980
Bill Fontana.
---
Faculty Art Exhibition
June 6 – 26, 1980
Eleanor Antin, Harold Cohen, Manny Farber, Jean-Pierre Gorin, Helen Mayer Harrison and Newton Harrison, Louis Hock, Ulysses Jenkins, Madlyn Kahr, Allan Kaprow, Fred Lonidier, Patricia Patterson, Italo Scanga, Ernest Silva and Phil Steinmetz.
---
Images of Mexico
April 19 – May 23, 1980
---
Raymond Saunders: New Work
Feb. 15 – March 21, 1980
Raymond Saunders.
---
Artists in the Courtroom
Jan. 10 – February 1980
Bill Robles, Ruben Lopez and David Rose.
1979
The Decorative Impulse
Nov. 1 – Dec. 9, 1979
Billy A1 Bengston, Cynthia Carlson, Joyce Kozloff, Robert Kushner, Kim MacConnel, Lucas Samaras, Miriam Schapiro, Frank Stella, George Sugarman, Robert S. Zakanitch and Barbara Zucker.
---
Autochromes from the Albert Kahn Collection
Sept. 27 – Oct. 25, 1979
Albert Kahn.
---
Betye Saar: Assemblages and Collages
April 5 – May 13, 1979
Betye Saar.
---
Douglas Huebler: Recent Work
March 2 – 25, 1979
Douglas Huebler.
---
Yanomami Indians: Videotapes, Paintings and Drawings
Jan. 17 – Feb. 11, 1979
Juan Downey.
---
1978
Micro-Sculpture
Nov. 9 – Dec. 10, 1978
William Christenberry, Jared Bark, Donna Dennis, Ira Joel Haber, Theodore Halin, Roland Reiss, Paula Sweet.
---
L.A. Women Narrations
October 6 – 29, 1978
Sylvia Salazar Simpson, Carole Carrompas, Marti Hespen, Kathy Saxe, and Eve Pouinard, Victoria Nodiff, Karen Carson, Rita Yokoi, Jerri Allyn, Leslie Belt, Chutney Lu Gunderson, Parri Nicklaus, Jamie Wildman, and Denise Yarfitz.
---
Bob Kushner- One Size Fits All
Oct. 25, 1978
Robert Kushner.
---
Frida Kahlo Retrospective
April 7 – May 17, 1978
Frida Kahlo.
---
Tom Wudl: Showing
March 1 – 24, 1978
Tom Wudl.
---
Political Cartoon Drawings by Paul Conrad
Jan. 20 – Feb. 17, 1978
Paul Francis Conrad.
---
1977
Arbus/Avedon: Photographic Portraits
Nov. 11 – Dec. 11, 1977
Diane Arbus and Richard Avedon.
---
Wendy Clarke: Interactive Video
Oct. 11 – 23, 1977
Wendy Clarke.
---
The Artist's Book
April 18 – May 15, 1977
---
Your 5,000 Years Are Up!
March 1 –  20, 1977
Mary Beth Edelson.
---
1976
Illusions in the Gallery
Nov. 8 – Dec. 2, 1976
William Lundberg and Alan Turner.
---
Faculty Exhibition I
April 2 – 23, 1976
David Antin, Eleanor Antin, Newton Harrison, Patricia Patterson, Ree Morton, and Jehanne Teilhet.
---
Three Performers
Feb. 17 – March 5,1976
Lynn Hershmann, Stephen Laub, and Larry Goodell.
---
Arte Picante Festival- Chicano Juried Art Exhibition and Special Events
Jan. 11 – Feb. 6, 1976
Poetry: Alurista, Jose Montoya, Tino Villanueva; Music: Chunkie; Performance: Teatro Mestizo (Incomplete List of Artists).
---
1975
The UCSD Collection: Selected Works from the UCSD Collection
Nov. 3 – 25, 1975
Money, Vlaminick, Morisot, Vuillard, Pissarro, Signac, Renoir, Derain.
---
Crab Orchard Cemetery: A Re-creation of a Cemetery in Illinois
Sept. 25 – Oct. 26, 1975
Jo Hanson.
---
Contemporary Graphics: Selections from the La Jolla Museum of Contemporary Art
May 7– June 6, 1975
Roy Lichtenstein, Frank Stella, Robert Rauschenberg, Billy Al Bengston, Ed Moses, Ed Ruscha, Sam Francis, and Alfred Jensen.
---
Miriam Schapiro: The Computer, The Shrine, and The Dollhouse
April 1 – 27, 1975
Miriam Schapiro.
---
Sense of Reference: Explorations in Contemporary Realism
March 7 – 16, 1975
Alice Aycock, Gary Beydler, Douglas Bond, Vija Celmins, Christo, Robert Cottingham, Laurence Dreiband, Julie Geige, Ralph Goings, Hans Haacke, Jo Hanson, Nancy Holt, Robert Morris, Shirley Pettibone, Kenneth Price, Ralph Reed, Ed Ruscha, Allen Sekula, Elyn Zimmerman.
---
The Sister Acts: English Graphics of Eighteenth Century
Jan. 22 – Feb. 21, 1975
Fuseli, Gainsborough, Hogarth, Rowlandson, Romney, and Stubbs (Incomplete List of Artists).
---
1974
Barbara Smith Retrospective
Nov. 7 – Dec. 4, 1974
Barbara Smith.
---
The Troubles: An Artist's Document of Ulster
May 15 – June 7, 1974
Les Levine.
---
Sonakinatography
April 9 – 24, 1974
Channa Davis Horwitz.
---
Heuristic Formulations
Feb. 21 – March 15, 1974
Ida Horowitz.
---
Three Painters
Jan. 14 – Feb. 15, 1974
Tom Holland, Ed Moses, and Richard Yokomi.
---
1973
Bob Wade
November 13th – [unknown], 1973
Bob Wade.
---
Robert Rossellini Speaks
Oct. 25 and 28, 1973
Roberto Rossellini.
---
Exhibition: Graduate Student Work
Oct. 18 – Nov. 9, 1973
Emily Beebe, Curtis Berak, Daniel Camp, Jim Cantor, Kathy Esty, Mary Fish, Kathleen Frey, Linda MacLean, Gerry McAllister, Kaz Ota, Nancy Ping, Nancy Rapp, Martha Rosler, Wade Saunders, Sara Sealander, Allan Sekula, Havey Tarango, Byron Wilding.
---
Southern California Indian Rock Art
May 21 – June 15, 1973
---
Intercollegiate Student Work
April 4 – 7, 1973
Students from San Diego Area.
---
Japanese Prints
Feb. 20 – March 24, 1973
Ukiyo-e Artists (Incomplete List of Artists).
---
Books
Jan. 9  – 26t, 1973
Edward Ruscha.
---
1972
Guatemalan Textiles
Nov. 17 – Dec. 15, 1972
Maya-Quiche Natives of Highland Guatemala (Incomplete List of Artists).
---
Figurative Paintings
Oct. 20 – Nov. 12, 1972
Barbara Strasen and Susan Clover.
---
Space Expanders
Oct. 9 – 15, 1972
Jeff Raskin.
---
Market Street
Feb. 20 – March 10, 1972
Arlene Bendler, Joy Hayashi, and Eden Hodara.
---
Simone Forti
Feb. 4, 1972
Simone Forti.
---
Ceramics/Distribution?
Jan. 4 – 20, 1972
---
1971
Mabou Mines
Nov. 19 – 20, 1971
Mabou Mines presents The Red Horse Animationi directed by Lee Breuer with music composed by Philip Glass and Becket's Play.
---
Raffael/Villa
Nov. 16 – Dec. 10, 1971
Carlos Villa and Joseph Raffael.
---
Four Quilts by Seven Women
Oct. 26 – Nov. 12, 1971
Judy Raffael, Thoss Taylor, John Annaloo, and Doug Davis.
---
Faculty Exhibition
Oct. 3 – 22, 1971
Gary Hudson, Manny Farber, Harold Cohen, Jeff Raskin, Michael Todd, Philip Steinmetz, David Antin, Nathan Silver, Ellen von Fleet, and Jehanne Teilhet.
---
The Artaud Paintings
April 21 – May 16, 1971
Nancy Spero, Antonin Artaud.
---
Kalifornia Kolor
March 12 – 19, 1971
Nick Rott.
---
Alex Katz
Feb. 27 – April 14, 1971
Alex Katz.
---
1970
Karen Kozlow
Dec. 4 – 25, 1970
Featuring musical performance by Pauline Oliveros.
---
Bocour Artist Colors Collection
Oct. 12 – Nov. 1, 1970
Helen Frankenthaler, Philip Guston, Jack Levine, Jules Olitski, and Moses and Raphael Soyer (Incomplete List of Artists).
---
Power Throne Deep Altar to the Heart Beating in You
May 12 – 24, 1970
Robert Newman.
---
Talus
Febr. 24 – March 15, 1970
Richard Serra.
1969
The Impure Image: Current Trends in Representational Art
April 21 – May 22, 1969
Tom Wesselmann, Roy Lichtenstein, John Baldessari, Malcolm Morley, Alex Katz, Sylvia Sleigh, Michelangelo Pistoletto and Richard Estes. 
---
FLUXUS / The Big Book
March 4 – 22, 1969
Alison Knowles (Big Book), George Maciunas, George Brecht, Joe Jones, Dick Higgins, Robert Watts, Tobert Filliou, Emmett Williams, John Baldessari.
---
Mazes
Jan. 3 – 26, 1969
Jeff Raskin.
---
1968
Faculty Show
Nov. 4 – 28, 1968
John Baldessari, Paul Brach, Harold Cowen, Don Lewallen, Miriam Shapiro, Mike Todd.
---
Lithographs from Gemini
Oct. 4 – Nov. 3, 1968
Frank Stella, Jasper Johns, Josef Albers, Claus Oldenburg, Ken Tyler (founder of the Gemini Workshop).
---
John Altoon Paintings
March 26 – April 28, 1968
John Altoon.
---
LA <-------> NY
Feb. 11 – March 10, 1968
Larry Bell, Billy al Bengston, Tony Berlant, Martin Canin, Helen Frankenthaler, Judy Gerowitz, Loyd Harmol, Craig Kaufman, Morris Louis, Philip Pearlstein, Frank Stella.
---
New Work/Southern California
Jan. 9 – Feb. 4, 1968
Peter Alexander, Michael Asher, John Baldessari, Ron Cooper, Dough Edge, Jessie Jacobs, Su Li, Terrence O'Shea.
---
1967
German Expressionist Prints from the Grunwald Graphic Arts Foundation
Nov. 14 – Dec. 10, 1967
---
Contemporary Chilean Art
May 7 – 27, 1967
Roberto Matta, Jorge Elliot, Jose Balmes, Ernesto Barreda, Gracia Barros, Louise Mandiola, Eduardo Perez, Sergio Castillo, Juan Egenau, Luis Mandiola, Felipe Castillo and Matia Vial.
---
William Brice/Selection of Drawings 1955-1966
Jan. 15 – Feb. 19, 1967
---
1966
Art of Latin America Since Independence
Sept. 10 – Oct. 16, 1966
David Alfaro Siqueiros, Tarsila do Amaral, Pedro Americo de Figueiredo e Melo, Rodolfo Amoedo, Jose Agustin Arrieta, Federico Assler, Ignacio Baz, Juan Manuel Blanes, Arturo Borda, Teodoro Burchard Haberle, Alexander Calder, Miguel P. Caride, José S. de Castillo, Frederick Catherwood, Jules Robert Challamel, Rafael Coronel, Miguel Covarrubias, Jean Baptiste Debret, Ernest Diera, Demócrito II, Adolphe D'Hastrel, N. Doumic, Daniel Thomas Egerton, Constantino Escalante, Fernando Fader, José Antonio Fernández Muro, Pedro Figari, Theodore Fisquet, Juan Fossa, José Gamarra, Epifanio Garay, Fernando Garcia del Molino, José Gil de Castro, August Henri Victor Grandjean de Montigny, Frederico Otto Grashof, Marcelo Grassmann, Sarah Grilo, William Heath, Alfredo Hlito, Iriarte Hesiquio, Eduardo Kingman Riofrio, Rodolfo Kratzenstein, Wilfredo Lam, Roberto do Lamonica, Wesley Duke Lee, Fernand Léger, Lepori(?), Loballuz, Cándido López, Juan Lovera, Angel Lugue, Luis Pedro Martinez, Johann Moritz Rugendas, Antonio Ruiz, Sabatier, Andrés de Santa Maria, Enrique Sheridan, Carlos Squirru, Rufino Tamayo, Niccas Antoine Taunay, Manuel Tolsá, Mario Toral, Joaquín Torres García, Ramón Torres Méndez, Martin Tovar y Tovar, Guillermo Trujillo, Charles Turner, Juan Manuel Ugarte Eléspuru, Mario Urteaga, Victor Vasarely, Emeric Essex Vidal, Carlos Raúl Villanueva, Alfredo Zalce.